Webster University and Uzbekistan Ministry of Health to Explore Offering Health-Related Programs in Tashkent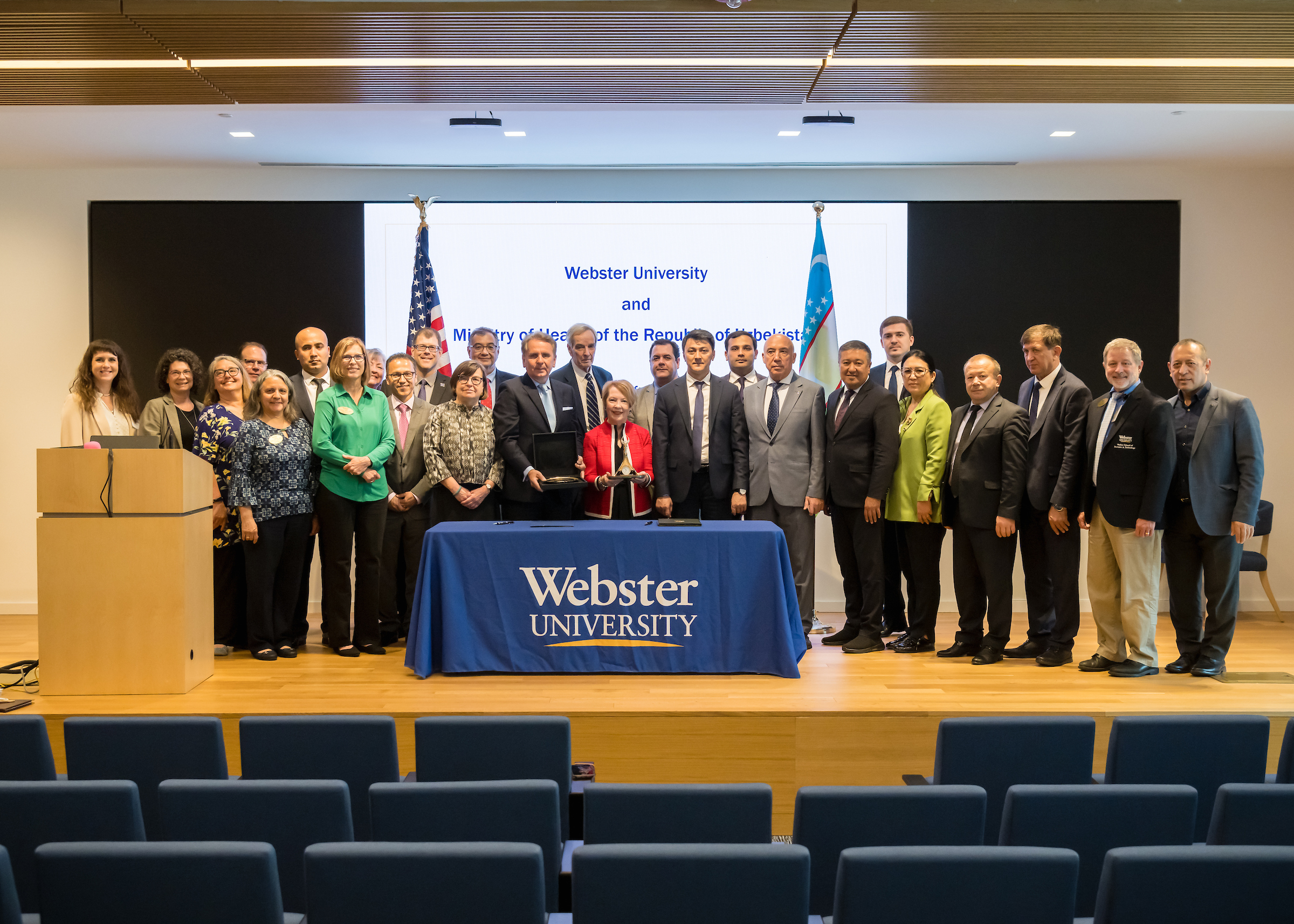 Webster University and representatives from the Republic of Uzbekistan's Ministry of Health signed an agreement to explore ways the two institutions can bolster health education at Webster's Tashkent campus, located in the capitol of Uzbekistan. The agreement was signed during a ceremony held on Webster's campus in St. Louis on May 11.
Uzbekistan's Minister of Health Dr. Amrillo Inoyatov and several of his colleagues arrived in St. Louis this week to meet Webster's faculty and staff and celebrate the agreement.
"This new partnership is possible because we are building on a foundation of shared values and a shared vision," Webster University Chancellor Elizabeth (Beth) J. Stroble told a packed room of visitors, administrators, faculty and students during the ceremony. "Collaborating with the Ministry of Health and the institutions present at today's ceremony will enable us to do more than we are able to do on our own to meet unmet needs through education."
"This is the beginning of a new era of cooperation between Webster and Republic of Uzbekistan," said Webster University President Julian Z. Schuster. "In the past decade, we have worked with our partners in Uzbekistan and established a new campus, brought in faculty and staff, attracted thousands of students and built a solid foundation for future growth. We are now climbing to the next level by bringing new academic programs and best practices that are in demand in Uzbekistan and the region beyond."
Under the agreement, Webster and the Ministry of Health will explore what the best health and science academic programs to be added to the current curriculum offered at the Webster Tashkent location. Officials in Uzbekistan have expressed interest in pre-med, health sciences, health administration, psychology, counseling, nursing and biology programs. The exact programs that will be offered will be decided in the coming months.
"It is well known that Webster has a stellar reputation for worldwide education," Inoyatov told the crowd, adding that the country is currently leading an initiative to encourage more students to enter health-related fields and help transform the country's health system. "This is just the beginning. The next stage is to expand healthcare programs with Webster, and we believe that this is an important part of our efforts to educate more women in the field."
Webster University opened the Tashkent office in 2019, after two years of negotiations with government representatives. Today, the campus is the largest Webster location outside of St. Louis, with nearly 3,000 enrolled students.