Webster Vienna Hosts Media and Communication Scholar Robin Mansell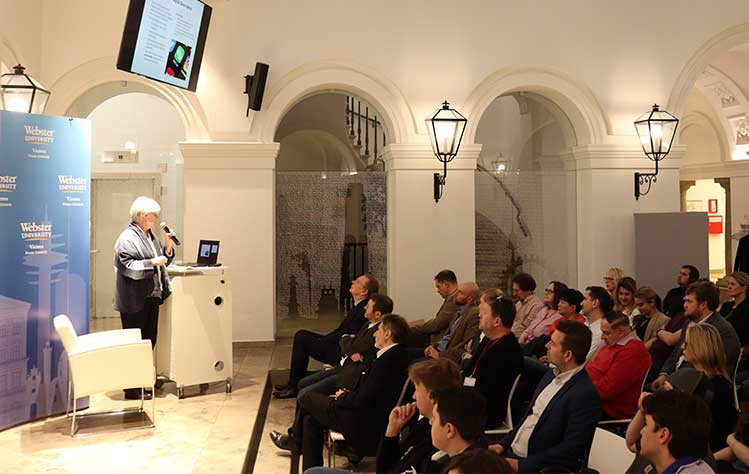 As part of the Dr. Elizabeth Chopin Endowed Visiting Professorship, Webster Vienna Private University (WVPU) recently hosted British-Canadian media communications expert Robin Mansell. During her time at WVPU, Mansell delivered a public lecture, in-house lecture, chaired a seminar, and visited an undergraduate public relations class.
On March 21, Mansell kicked off her visit to campus with an in-house lecture titled "Mass Surveillance in a Digitized World: Is It Inevitable?" Faculty, staff, and students listened while Mansell explained that privacy and other rights can still be protected, although new methods will soon have to be developed.
The next day, Mansell's public lecture, "Disruptive Digital Worlds: Possible Futures" was attended by a large, welcoming crowd. In her lecture, Mansell highlighted the importance of addressing gatekeeping power with rules and laws, safeguarding fundamental rights, sector-specific regulation, balancing economic goals with public values, and holding companies accountable, especially for AI datafication operations. The event was made possible through a collaboration with the Webster Vienna Alumni Association and the American Chamber of Commerce.
While on campus, Mansell also chaired the seminar "Digitization, Sustainable Development Goals, and 'Development': Hidden Injuries and a Politics of Hope. In that talk, she brainstormed with WVPU faculty, staff, and students about exciting, new themes, including the willingness of the Global North to share technological development with the South. She further elaborates on these themes in her upcoming book to be published by Oxford University Press.
Mansell wrapped up her week-long visit to WVPU by visiting an undergraduate public relations class. She sat in among students, experiencing Webster Vienna from their perspective, and asked the students to refer to her simply as "Robin." She joined some of the students and their professor, Anthony Löwstedt, afterward for dinner and drinks.
Mansell was WVPU's second visiting Dr. Elizabeth Chopin professor this academic year. The Dr. Elizabeth Chopin Endowed Visiting Professorship was funded through a donation from Reinhard Ortner and was created in honor of Chopin's history of service to the University and the community. Chopin was WVPU's campus director from 1988-1999. The endowment has enabled WVPU to draw world-renowned professors to Vienna. Past speakers include Sean McFate from Georgetown University, Iver Neumann from Oslo University, David Shambaugh from George Washington University, Marwan Kraidy from the University of Pennsylvania, Semir Zeki from University College London, and Philip G. Zimbardo from Stanford University, amongst others.
For further information about future lectures and events, follow WVPU on Twitter and Instagram. Alumni can join the University's free online networking community.