Alumna Shares Oscar Glow for Work on Disney's 'Frozen'
Disney's animated feature "Frozen" has not only enjoyed enormous box office success but the film is taking home a number of awards at the Annies the BAFTAs, the Golden Globes ... and as of last Sunday, the Academy Awards.
Leah Latham graduated from Webster University's animation program in 2010 and worked on the film as an editorial production coordinator. She said the awards season experience has been surreal.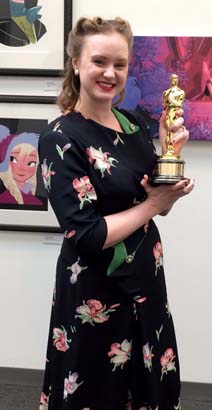 "It's like the movie Groundhog Day, only if the repeated day was Christmas morning," said Latham. "Every time we think we have opened all the presents, we wake up and find there are more! We knew Frozen was special, but we couldn't dream how much the world would agree." As a student, Latham helped to organize Webster's animation festival, Kinematifest, and has said that this hands-on experience in the animation industry helped her figure out how to begin her career.
"I had a tenacious vision of where I wanted to be when I graduated and Webster gave me the freedom to build my opportunities," she said. "Through leadership opportunities and internships, I realized what I really wanted to do and Webster put me on the right road to get there. When I graduated, I had the real experience and confidence to shoot for the moon and I landed right where I always dreamed of being."

Although she did not attend the Academy Awards ceremony, she enjoyed attending both the Annies, which are awards for achievements in Animation, and the Eddies, for achievements in editing.
"You're there with your closest workmates and everyone is looking so spiffy," she said. "Walt Disney Animation Studios was a winner at both, including our editor, Jeff Draheim, who artistically led my team for the past three years, and, my, what an incredible feeling. Your department forms such a close bond that when a member and your team are recognized for their tireless hours and devotion, it's simply just the best."
During the Academy Awards, she attended a party that Disney held at its animation studio.
"When they were about to announce Best Animated Feature, you could have cut that tension with a knife," Latham said. "Then when we heard 'Frozen!' the emotional dam broke, and there was screaming, laughing, hugging, and crying. There's just such euphoria and pride in the building right now, as we all feel like we had a hand in winning these awards."
In addition to all of the awards, Latham is overwhelmed by the reception the movie has received by the public.
"More than 800 brilliant, passionate people came together, despite a very demanding schedule, and poured their whole selves into 'Frozen' and it is evident in every single shot," she said. "It's surreal to see this project we've been working on for years, squirreled away in a studio in Burbank, California suddenly ignite a wildfire of amazing, creative responses from all over the world. People are taking our passion project and turning it into theirs, and that is so cool!"'
This is likely to be the first of many successful awards seasons for Latham. She is currently working on Disney's animated feature "Zootopia," which is expected to be released in 2016.