Carter, Film Series Named 'Best Of St. Louis'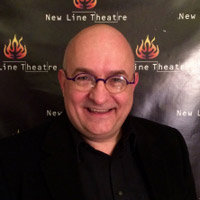 Two Webster University fixtures were recognized as best in their category in the 2015 "Best of St. Louis" arts and entertainment awards issued by the Riverfront Times.
'Strange Brew' Named Best Film Series
The Webster University Film Series' "Strange Brew" series was selected by the RFT as "Best Film Series." The series, curated by film series director James Harrison through the School of Communications, presents select films in the lively atmosphere of Schlafly Bottleworks in Maplewood, Missouri.
Wrote the RFT about the series:
"If the Webster Film Series represents the cinephile's ego, what with its fondness for great directors, culturally significant pictures and foreign films, the Strange Brew series is that same film buff's raging id. Strange Brew, which is technically an offshoot of the WFS, dives deep into Hollywood's backwaters to find the cult classics and near-misses of the past.

"...And that's what makes Strange Brew so much fun. When the films are bad they're good, and when they're good they're great."
Carter Named Best Musical Director
The "Best of St. Louis" awards also honored Jeffrey Carter, faculty member and chair of the Department of Music in the Leigh Gerdine College of Fine Arts.
Carter, who earlier this year won the Outstanding Musical Director award from the Saint Louis Theatre Circle Awards for his work in 2014 as resident music director for New Line Theatre, was named Best Musical Director by the RFT for multiple impressive New Line productions in 2015.
As the RFT wrote of Carter's work on New Line productions of "Jerry Springer: The Opera" ("beautiful and at times sublime") and "The Threepenny Opera":
"The fact that he's behind two such singular performances this year would lead one to argue for two individual awards. Judges? No? Well, all right. One dual-purpose award will have to do the trick."
Read the full salute to Carter at the RFT.