Webster University Rises in U.S. News and World Report Ranking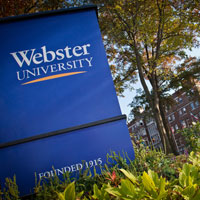 ST. LOUIS – Webster University rose to 23rd place on the annual U.S. News & World Report "Best Colleges" 2018 list, it was announced today. This is Webster's highest ranking in four years, and the second year in row that it has risen in the annual institutional assessment.
For the ninth consecutive year, Webster is ranked first among St. Louis institutions in the "Regional Universities – Midwest" classification, which includes 165 colleges and universities from Ohio, Iowa, Indiana, Illinois, Michigan, Minnesota, Wisconsin, North and South Dakota, Kansas, Nebraska and Missouri. Webster also ranked third out of all institutions in Missouri, and second out of all private non-profit institutions in the state.
"The faculty and staff at Webster University are dedicated to providing a quality education to a globally diverse community of students, and this ranking recognizes that effort," said Webster President Elizabeth (Beth) J. Stroble. "I offer my heartfelt thanks and congratulations to them and to our trustees, alumni, donors, and partners whose dedication to excellence and serving unmet needs has helped prepare our students for a bright and impactful future."
"We've invested in – and committed to – initiatives to improve our students' persistence and educational experience and to strengthen faculty resources for growing programs," said Julian Schuster, provost, senior vice president and chief operating officer of Webster University. "Our continued success in the U.S. News & World Report ranking, along with other rankings and recognitions, shows that our institutional achievements are externally validated. I am proud of the hard work of our faculty and staff in strengthening our academic and operational excellence."
Besides the overall ranking, Webster University also is listed by U.S. News & World Report in several other categories:
Study Abroad – Webster is one of only 44 universities out of approximately 1,500 institutions across all ranking categories to make this list. Webster has been recognized for Study Abroad 10 times since U.S. News started the Study Abroad recognition in its 2003 edition.
Faculty Resources – Webster is ranked as the best among the 165 institutions in the Regional Universities-Midwest category, and this is the second year Webster has topped the list. The category measures the institution's commitment to instruction. This composite variable includes student/faculty ratio, faculty compensation, percentage of faculty who are full-time, and other measures.
Economic Diversity Among Top 25 Ranked Schools – With 48 percent of undergraduates receiving Pell Grants, Webster ranked 2nd in economic diversity out of the top 25 ranked schools in the Midwest Category.
Best Colleges for Veterans – This is the fifth consecutive year Webster is recognized as an institution that helps veterans and active duty service members pursue, pay for, and complete their degrees. Webster is one of only 16 out of 165 institutions in the Regional Universities-Midwest category to receive this recognition.
A+ Schools for B Students - Institutions included on this list must have a high overall ranking and also accept a significant portion of "applicants whose test scores and class standing put them in non-'A' territory." Webster has previously been listed in this category.
Highest Six-Year Graduation Rate for Pell students – Webster is 28th

in the Regional Universities-Midwest category, with 56 percent of Pell recipients finishing a degree in six years or less.

Campus Ethnic Diversity – 48th

in the Midwest Category, putting Webster in the top third

Best Value Schools – 55th

in the Midwest Category, putting Webster in the top third
Earlier this year U.S. News & World Report named three of Webster University's online programs among the best in the country in its 2017 Best Online Programs report.
Other rankings that Webster received recently include:
Second best private non-profit graduate program in Missouri and among the best programs in the country, as ranked by Washington Monthly Magazine.
The best institution in the St. Louis region and the sixth best non-profit institution in the country for improving a student's social mobility, as ranked by CollegeNet.
Best online programs in Missouri and 6th nationally, according to AccreditedSchoolsOnline.org
Fourth best study abroad program in the nation, according to the website Great Value Colleges.
One of the five best institutions in the region for graduating low income, first generation, underserved minorities with comparatively low debt, according to a study conducted by the St. Louis Regional Chamber of Commerce and St. Louis Graduates.
Among the top 50 schools in the nation for best international MBA degrees, as ranked by Online MBA Today, a digital news site.
With its home campus in St. Louis, Missouri, USA, Webster University (www.webster.edu) comprises an action-oriented global network of faculty, staff, students and alumni who forge powerful bonds with each other and with their communities around the globe. Founded in 1915, Webster is a private non-profit university with nearly 16,000 students studying at campus locations in North America, Europe, Asia and Africa and in a robust learning environment online. The university is committed to ensuring high-quality learning experiences that transform students for global citizenship and individual excellence.