Jane Ellen Ibur '73 Selected as Poet Laureate of St. Louis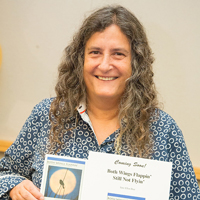 Webster University alumna Jane Ellen Ibur '73 has been selected to become poet laureate of St. Louis, a two-year term expected to begin during National Poetry Month in April 2019.
The 2013 recipient of the Webster University Alumni Association's Loretto Award, Ibur is a poet, creative writer and teacher who "teaches people no one else teaches."
She has brought the joys of literature to homeless shelters, prisons, museums, arts centers. Her students range from gifted children to incarcerated adults, military veterans and seniors dealing with dementia. As she told the College of Arts & Sciences newsletter in 2006, "I teach all ages from birth to death, and I treat everybody exactly the same: My job is to give them their voice."
Among her educational activities, Ibur has taught and led workshops for other writing teachers through Literacy Investment for Tomorrow (LIFT), a public-private literacy resource organization, and through the RAC-funded Community Arts Training (CAT) Institute, which trains artists and social workers to form nontraditional partnerships to "put art in other places" — places such as public housing, parks, neighborhood centers and jails, where art can make a changing social impact.
Ibur was initially selected for this post in December 2016, though political delays prevented a confirmation by the Board of Alderman. This summer a new task force also recommended her, and she is expected to be confirmed by the board this week, according to St. Louis Public Radio.
As she told St. Louis Public Radio, Ibur sees the post as a poetry ambassador role that will open doors for new and overlooked populations. That's a mission Ibur knows well, one she has been fulfilling for decades.
Ibur is in good company among Webster University laureates: David Clewell, professor of English and creative writing in the College of Arts & Sciences, served as poet laureate of the State of Missouri from 2010-12.