Webster University Increases the Number of Presidential Scholarship Awardees for the Second Year in a Row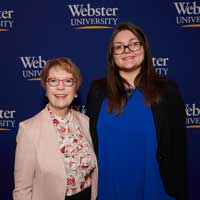 ST. LOUIS - Webster University has tripled the number of students receiving Presidential Scholarships in the past two years. Fifteen students will receive the full-tuition award that is the largest academic scholarship offered to any student at the institution when they start school in the fall.
This is the largest number of Presidential Scholars in the history of the award.
"This year's finalists for the Presidential Scholarship have an impressive record of achievement, which is why Webster is investing in their education, as we know they will excel as leaders and scholars, " said President Elizabeth (Beth) J. Stroble. "The expansion of the Presidential Scholarship Program is a result of University leadership's commitment to enhance the diversity and academic credentials of incoming students and further expand on Webster's mission of inclusion and excellence."
This year's awardees are:
Navone Armstrong, Hazelwood, Mo., Biology
Kylie Burke, Belleville, Ill., Biology
Cullen Curth, St. Louis, Mo., Music Direction for Musical Theatre
Drew Fisher, Cedar Hill, Mo., Advertising & Marketing
Sarah Hill, Seneca, Mo., Political Science
Zachary Hohenstein, St. Louis, Mo., Film, Television & Video Production
Sarah Lein, Carmel, Ind., Film, Television & Video Production
Elizabeth LeMieux, Bloomington, Ill., Audio Production
Tyler Lingle, Imperial, Mo., Education
Dylan Manning, Springfield, Mo., Computer Science
Matthew Mickens, St. Louis, Mo., Jazz Performance
Margaret Nelson, Wauwatosa, Wis., Scene Design
Megan Plunkett, Naperville, Ill., Undecided
Ajla Sahbegovic, St. Louis, Mo., English
Destiny Sailors, Pottsboro, Tex., Stage Management
The 15 awardees boast an average GPA of 4.28 and exceptionally strong standardized test scores.
The Presidential Scholarship is a comprehensive full-tuition award for outstanding undergraduate students who enroll at Webster as first-time freshmen. Awards for 2018-2019 will be valued at more than $110,000 over four years. The scholarship is annually renewable, provided students maintain a cumulative GPA of 3.5 or higher while at Webster. The scholarship can be used on the St. Louis campus and at Webster's international campuses while studying abroad.
More than 120 incoming students applied for the scholarship. Thirty-two finalists were selected based upon demonstrated academic excellence, involvement with school and community and capacity for future contributions as a student leader at Webster University.
Finalists interviewed with faculty, staff, and current student leaders, as well as completed an onsite essay during the Presidential Scholarship Competition hosted by President Stroble and the Office of Admission on Webster's campus earlier this year. Finalists and their families also attended various interactive sessions to learn more about Webster's tradition of academic distinction and dynamic student life.
With its home campus in St. Louis, Missouri, USA, Webster University (www.webster.edu) comprises an action-oriented global network of faculty, staff, students and alumni who forge powerful bonds with each other and with their communities around the globe. Founded in 1915, Webster is a private non-profit university with more than 14,000 students studying at campus locations in North America, Europe, Asia and Africa and in a robust learning environment online. The university is committed ensuring high-quality learning experiences that transform students for global citizenship and individual excellence.