Two St. Louis Students Awarded 2019 Webster University Suggs Scholarships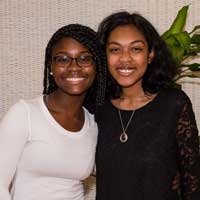 ST. LOUIS - Incoming freshmen Tekoa Bell and Brennae Jackson are the 2019 Webster University Suggs Scholarship recipients, it was announced this week. The total value of the scholarship if $160,000, with each student receiving during the next four years up to $80,000 in financial aid to be used toward their education.
The Suggs Scholarship is designed to increase the recruitment and retention of undergraduate students of color. To be considered for the award, applicants must have an ACT score of 27 or higher, which is equivalent to an SAT score of 1200 or higher. Students who receive the scholarship must take at least 13 credit hours each semester, successfully complete 26 units per year, and maintain a cumulative grade point average of 3.0 or above.
"These are two of the brightest young residents of St. Louis and I look forward to working with them as they pursue their goals of earning a college degree," said Vincent C. Flewellen, chief diversity officer at Webster University and a mentor to the Suggs Scholarship program. "This scholarship program is just one of more than 50 offered at Webster to students from underrepresented communities who often face inherent systemic barriers that deter them from earning a college degree."
Bell is a 2019 graduate of Hazelwood West High School where she graduated Magna Cum Laude. As a girl scout senior ambassador, Tekoa contributed to a variety of community service projects including, working in the soup kitchen of the St. Patrick Center, donating care packages to the USO in Lambert Airport and working with the girl scouts during their collection of the April Showers campaign. Throughout high school, she was a member of the French National Honor Society, the Tri-M Music Honor Society and the West Preparatory Academy, which encourages and supports African American students to take honors AP level courses which were lacking in diversity in the Hazelwood school district. She has not decided on her major at Webster yet, but hopes to settle on a subject by her sophomore year.
Jackson is a 2019 graduate of Rockwood Summit High School, where she graduated Summa Cum Laude. She held a part-time job in high school and was involved in several organizations at her school. As a member of the Student Equity Leadership she helped establish "One Summit" a campaign to become a more accepting school community. She helped establish the first feminism club on Summit's campus, discussing gender inequality and working to make changes. She participated in the Love Project, promoting a more united school environment that transcended racial, gender and individual barriers. Jackson was also a varsity student athlete for three years and served as team captain and as the representative to the Summit Leadership Group for Athletics. She plans on studying Education with an emphasis in Secondary School English at Webster.

The scholarship is named in honor of Donald Suggs, a St. Louis area oral surgeon, publisher of the St. Louis American newspaper, patron of the arts, distinguished community leader and former member of Webster University's Board of Trustees. The Webster University Suggs Scholarship was established in 2013.
This year's scholarship will be formally presented on Sept. 21 at the 32nd annual St. Louis American Foundation's Salute to Excellence in Education Scholarship and Awards Gala.
Webster University has a long history of helping underrepresented students pursue educational goals. For the past 28 years, "Diverse: Issues in Higher Education" (DIHE) has recognized Webster as one of the universities in the country that confers the most degrees to graduate students who self-report as African American, Hispanic, Asian American and Native American. Webster also has been recognized in numerous national rankings for having an economically diversified student body, and for having a significantly higher ratio of students who qualify for federal Pell Grants than other similar-sized private non-profit universities.
More information about Webster's Diversity and Inclusion efforts can be found at www.webster.edu/diversity-inclusion/.