In the News: Sargent, Englis favorite designers; fastest theatre production; Hill on air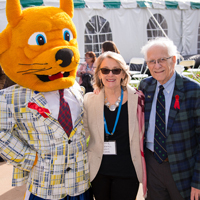 Peter Sargent and Dottie Marshall Englis were named the region's favorite lighting and costume designers, respectively, in the St. Louis Post-Dispatch's annual "The Go! List of Arts."
Sargent is dean of the Leigh Gerdine College of Fine Arts. Marshall Englis is chair of its Conservatory of Theatre Arts. In addition to being longtime teachers helping guide future artists, both are widely respective for their design work with professional productions.
The Post-Dispatch's Go! List is based on a reader poll in more than 160 categories.
See the full list of "favorites" online here.
KMOV, KSDK Cover 'Fastest Theatre Production'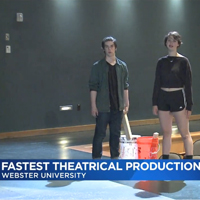 The Leigh Gerdine College of Fine Arts students attempting to break the world record for "fastest theatre production" were featured on local NBC and CBS affiliates over the weekend.
On their own initiative, the group of Webster thespians, technicians, stage designers, costumers, videographers, actors, and musicians planned, designed, learned, rehearsed and performed a musical whose name and script they did not know until it was delivered to them at 6 a.m. on Sunday morning. By the evening, they were performing it live -- 13 hours later, attempting to break the current record of 15 hours.
Their record-breaking attempt will not be official until it is certified.
Watch coverage of it on KMOV Channel 4, the local CBS affiliate.
Hill on 'St. Louis On The Air' for Women's Choir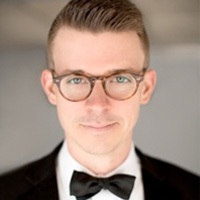 Stuart Chapman Hill was on St. Louis On The Air discussing inclusivity and CHARIS: The St. Louis Women's Choir, for which he is artistic director. The choir is known for its inclusion featuring members and allies of the LGBTQ+ community.
Hill is director of Music Education in the Department of Music, part of Webster's Leigh Gerdine College of Fine Arts
St. Louis Public Radio reporter Jonathan Ahl sat down with Hill and members Wendy Bell and Emma Young to discuss their spring season, community involvement and collaborations with other choruses and community arts and social services organizations.
"We try really hard to represent the people that we support," Hill said. "That includes subject matter, including [songs from productions with] characters who are queer ... also [selecting] compositions by composers who are women, composers who are out as members of the LGBTQ community. So that is part of the repertoire."
Listen to the entire interview at St. Louis Public Radio here.