Michael Hulsizer Appointed Interim Dean of College of Arts and Sciences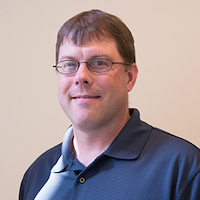 Michael R. Hulsizer has been named the interim dean for the Webster University College of Arts & Sciences, effective January 2021.
A professor and chair of the Department of Psychology, Hulsizer will succeed Anton (Tony) Wallner, who has announced he will retire at the end of the fall 2020 semester.
"As a longtime member of the College of Arts & Sciences faculty, Mike knows the College and Webster well and has the respect of his colleagues," said President Julian Z. Schuster. "We are happy that he will step up to lead the College during this important time."
Hulsizer has been a full-time faculty member in the College of Arts & Sciences since he arrived at Webster in 1997. He teaches introduction to psychology, social psychology, and biopsychology as well as applied psychology classes on topics such as motivation and emotion, prejudice and discrimination, and advanced statistics. He is also a fellow in Webster's Institute for Human Rights and Humanitarian Studies.
"Mike has served on a number of university-wide committees including Faculty Research Grants, Academic Program Review, Salary and Fringe Benefits, and searches for academic and administrative leadership," said Nancy Hellerud, Webster's vice president for Academic Affairs. "His understanding of Webster and his experience in academic and operational areas will serve the College of Arts & Science well in this challenging year for higher education."
Hulsizer has written about various topics related to the teaching of psychology, research methods, peace psychology, social justice, hate groups, and genocide. He is co-author, with fellow Webster professor Linda M. Woolf, of A Guide to Teaching Statistics: Innovations and Best Practices (Wiley-Blackwell). He is a past recipient of the William T. Kemper Award for Excellence in Teaching at Webster University and the Emerson Excellence in Teaching Award, and he has received or shared multiple awards for research and instruction from the Society for the Teaching of Psychology.
"Dean Wallner has done a tremendous job in his time as Dean of the College of Arts & Sciences particularly during this difficult year," Hulsizer said. "I am looking forward to continuing Tony's work supporting our programs and faculty within the College. I have worked with our faculty for many years and they are all fantastic. It will be my honor to lead the faculty as we navigate these challenging times."
Hulsizer holds a BA in Psychology from State University of New York at Buffalo and an MA and a PhD in Experimental Psychology from Kent State University.