Webster Surpasses Front-Line Responders Fundraising Goal
A variety of Webster University community members working in healthcare helped raise awareness for the fund.
Thanks to the generosity and quick response by our donors, Webster University has surpassed its $100,000 goal for the Front-Line Responders Fund. The news was announced at the annual Fall Convocation Thursday by Chancellor Elizabeth (Beth) J. Stroble and President Julian Z. Schuster.
Part of this summer's crowdfunding efforts, Front-Line Responders was launched to support more than 300 Webster University students who have made personal sacrifices serving on the front lines during the COVID-19 pandemic. "This is a wonderful show of support for our front-line students at a time when we all need good news," Stroble said in a letter to donors announcing the milestone.
To reach the goal, Webster received more than 100 donations, from donors in 18 U.S. states, in amounts ranging from $20 to $20,000.
Appeals to raise awareness for the fund included testimonials from students and faculty members who shared their stories of witnessing the impact of the pandemic in their daily work, while also continuing their studies and teaching.
Earlier this summer, Webster also surpassed its goal for the Gorloks Now! fund. Both funds were created as ways for members of the global Gorloks community to lend a helping hand during the pandemic, with donations of any size.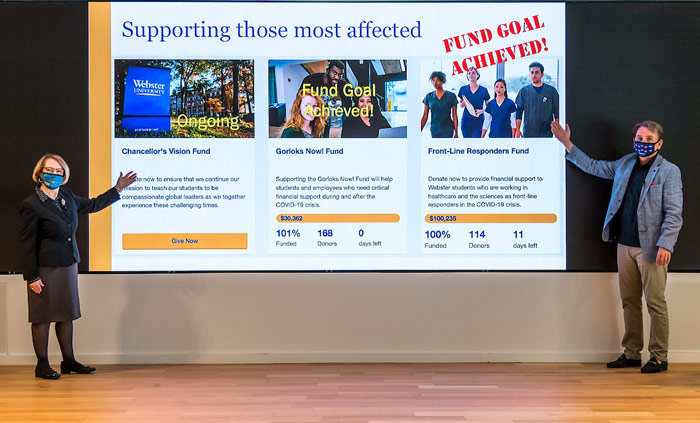 Chancellor Stroble and President Schuster announced the news to faculty and staff at Fall Convocation.