In the News: Biden's nomination of Webster alum Gen. Austin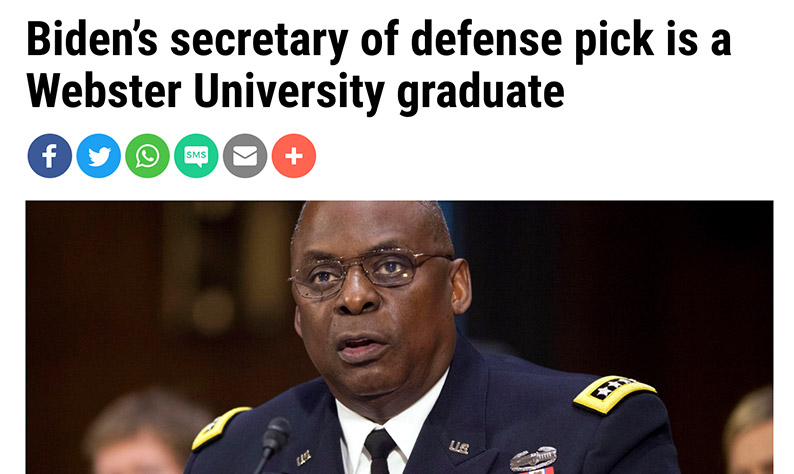 Webster University was mentioned in a wide range of international, national and regional news outlets after Webster alumnus Gen. Lloyd Austin III was nominated by U.S. President-elect Joseph Biden to be the Secretary of Defense. If confirmed, Austin would be the first Webster alumnus to serve in a cabinet position in the federal government and the first Black man to serve as Secretary of Defense in the United States.
CNN was among several national outlets referencing Lloyd's degree from Webster. St. Louis broadcast media including KTRS radio and KSDK and KMOV TV also featured the Webster connection.
An Associated Press story on Fox2's website featured Webster in the headline and quoted Chancellor Elizabeth (Beth) J. Stroble's message to alumni:
"Throughout Webster's history, our institution has taken pride in that pioneering, barrier-breaking spirit. The women who founded our university in 1915 created an institution for women when it was rare for them to have access to higher education – and indeed, women were not yet allowed to vote. The more than 100 years since have followed that tradition, welcoming international students, removing barriers for adult learners, and expanding Webster's reach to include campuses on four continents," writes Webster University Chancellor Beth Stroble.
Historic Nominee's Webster Connection
In addition to political and defense coverage in mainstream media mentioning Webster, several publications highlighted the significance of Lloyd's nomination for diversity, equity and inclusion: