In the News: Rodney, Rosenblum, Smith, Cooper on protests, monuments, media literacy and interviewing
Recent news media coverage featuring Webster University faculty members includes:
Rosenblum on History, Context of Monument Removal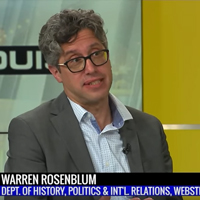 Warren Rosenblum was interviewed on NBC affiliate KSDK and KWRH radio about the historical context of Christopher Columbus and Confederacy monuments and their removal.
Rosenblum is professor of history and chair of the History, Politics, and International Relations Department in Webster's College of Arts & Sciences.
"A lot of these Confederate statues were built at a time when Jim Crowe were either being established or being reinforced and they were built, in part, as symbols — not just of the one group's identity but as symbols of oppression and justification of further persecution," Rosenblum said on KSDK.
He also discussed the history of Columbus monuments, and the motivations of protesters and revolutionaries in removing symbols like this.
"They want to remove these monuments and really make a statement that this is a moment of change…that they are not going to tolerate the glorification of things that they no longer see as valid."
Watch the NBC interview here, and listen to the KWRH interview in podcast form here.
Cooper in MEL Magazine on Motivational Interviewing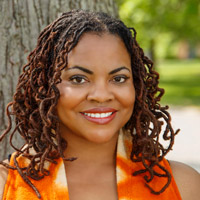 Jameca Woody Cooper was interviewed by MEL Magazine on "How to Use Motivational Interviewing Tactics to Make People Realize They're Wrong."
Cooper is an adjunct faculty member in Webster's School of Education.
The article says there is "a better way to coax people onto the right side of history that therapists have used to treat addiction since 1991: motivational interviewing, a counseling technique found to be significantly more effective than directly giving advice."
"Motivational interviewing essentially serves as a mirror to inspire a person to take an honest inventory of their core values and goals, along with their current behaviors.
"A big part of motivational interviewing is providing space for individuals to take the time to think about if their behaviors are in line with the things they say that they believe in," explains psychologist Jameca Woody Cooper, who co-authored a paper calling for the support of psychology leaders in the Black Lives Matter movement.
"If individuals can begin to examine the discrepancy between their stated goals and their behavior, it could be a step toward understanding individuals' perspectives on the other side," Cooper says.
Read the full article at MEL here.
Smith on 'Persons of Interest' Podcast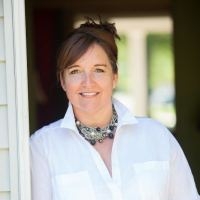 Julie Smith was on the "Persons of Interest" podcast on her own interest in media literacy, tactics for understanding media today, and how to help people debunk false info on social media.
Smith is an instructor in Webster's School of Communications.
Smith advocates for media literacy to be built into K-12 curriculum, noting how it is cross-curricular and can apply to any subject matter -- especially with today's "digital native" students.
On awareness for the importance of media literacy, Smith says "I think the pendulum is starting to move, where more people are thinking about these topics" and about they source and motivation behind information that is shared online.
Listen to the podcast here or on several podcast platforms.
Rodney on Spiritual Care and Justice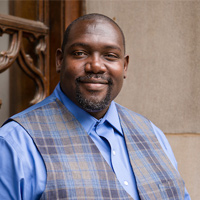 Rodney Basiyr Rodney penned an op-ed, "Exercising Spiritual Care as we work for Absolute Justice," in the newsletter for the PanAfrican Ahmadiyya Muslim Association USA.
Encouraging members during stressful times, Rodney writes, "The sting of racism and injustice – the toll it takes on our psychology, on our communities, our neighborhoods and on our families – is a pain that we each carry every day."
"We know that we have a direct responsibility to dismantle racist structures and hierarchies, disrupt racist policies and procedures, and destroy racist ideologies."