Webster in the News: Steenz 'One to Read,' Smith in Slate for media literacy, BLM Banner on KSDK
Recent news media coverage featuring Webster University community members includes:
Stewart Among Black Comic Book 'Artists to Watch'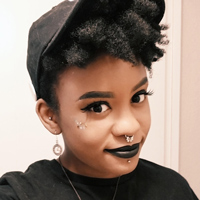 Animator and School of Communications adjunct faculty member Christina "Steenz" Stewart was named by CBR.com (Comic Book Resources) as one of 15 Black Comic Book Artists that everyone should be reading.
"In addition to co-creating the McDuffie Award-winning graphic novel Archival Quality with writer Ivy Noelle Weir, Steenz's work has been seen numerous comic anthologies, including the Eisner Award-winning Elements: Fire.
"She is currently working on the upcoming non-fiction graphic novel Side Quest: A Visual History of Role Playing Games with Samuel Sattin, while facilitating the development of a more inclusive comic book community and defying preconceived stereotypes about race, sexuality and identity."
Stewart recently took over of the comic strip "Heart of the City" from artist Mark Tatulli, who was at the helm for the 22 years it's been syndicated. She is now one of the few black women in charge of strips that run in mainstream newspapers.
State Magazine Credits Smith Guidance on 'Real' News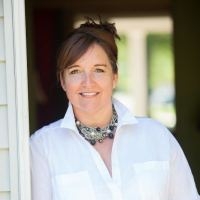 Julie Smith, instructor in the School of Communications, was cited by Slate Magazine as one of a handful of people who are helping the public understand how to tell real information from fake information online.
"Maybe you are one of the lucky ones who do happen to have media mentors. They are rare but not mythical. Right now, even during this wear-a-mask #StayAtHome saga, media literacy educators and information literacy specialists are finding ways to guide people through the wilderness. Julie Smith, an instructor of media communications at Webster University and author of Master the Media, is fielding emails from her students and extended family about whether to believe rumors on social media about the novel coronavirus and answering questions on a local radio talk show."
Smith is frequently cited in several media literacy articles and is the author of a new book, "Master the Media: How Teaching Media Literacy Can Save Our Plugged in World."
Black Lives Manner Banner on Channel 5 News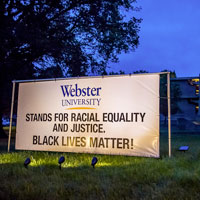 KSDK ran a short story Monday about the "Black Lives Matter" banner Webster installed in front of the Luhr Building on Sunday afternoon.
The full text of the banner reads: "Webster University stands for racial equality and justice. Black Lives Matter!"