New Choral Music from Stuart Chapman Hill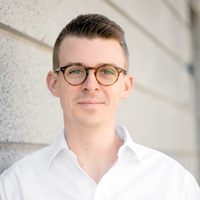 Stuart Chapman Hill, Director of Music Education in the Department of Music, has a new piece of choral music featured as an "Editor's Choice" with JW Pepper, a large music retailer, this month. "The piece is 'When Our Voices Rise,' and it was originally commissioned by Ellicott Mills Middle School, in the greater Baltimore area," says Hill. "The text is based on journal entries that the choir teacher at EMMS collected from his students. The students' writing describes their experiences of being in choir and being in community with each other, and my lyrics are an attempt to capture those sentiments."
"This will be my first title with Galaxy Music (part of the E.C. Schirmer family of imprints)—and I'm proud to say it's my fifth 'Editor's Choice' piece!"
Hill also notes a fun fact: "It appears the publisher decided to use the 'demo' I made as the promotional recording, so when you go to JW Pepper's website and listen to the piece, you'll hear a recording made in our very own Community Music School concert hall, with a choir populated by Webster students, faculty and alums!"