Webster University Plans Safe, Phased, Flexible Transition to Begin Fall 2020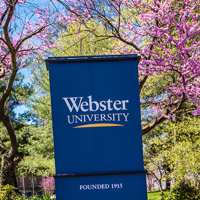 As local jurisdictions across our campus network begin to ease pandemic-related restrictions, Webster University is finalizing the plans and processes for students to return to our campuses for the fall 2020 term.
Webster University will begin the fall 2020 semester and term as scheduled and with face-to-face instruction, following careful guidelines to ensure a safe, healthy university community. The traditional undergraduate fall break (originally scheduled for Oct. 19-23) will be moved to the end of the semester and term so that undergraduate fall semester and terms end a week earlier. The graduate student schedule, which does not include a break, will start and end as scheduled:
Aug. 17: Fall 1 term for graduate students begins
Aug. 24: Fall 1 term and fall semester for undergraduate students begin
Oct. 19: Fall 2 terms for undergraduate and graduate students begin
Dec. 11: Undergraduate Fall 2 term and fall semester end
Dec. 18: Graduate Fall 2 term ends
Campuses outside the United States are monitoring their local conditions to adjust their plans as needed.
The question of how the University will hold instruction in the fall has permeated our community, and we know that this is but one of many pressing questions during this unprecedented time. We assure you that Webster's transition back to on-campus activities is being planned in a careful, phased way that prioritizes our community's safety and well-being. For the past month, a Task Force for Transition & Adaptability, with working groups made of dozens of staff and faculty members and contributions from many staff, faculty and students, has been convening to collect and assess the external guidance and internal resources needed to develop and implement this plan.
While the fall 2020 term will differ in many ways from fall 2019, the guiding and unchanging principle will remain the same: fulfilling Webster's mission to providing high-quality, accessible educational experiences in an environment that maintains the health and safety of everyone in our community. Webster's long-held strengths in distance learning and flexible campus life have us well prepared to make campuses accessible and safe this fall.
To that end, students should look forward to several important components:
Accessibility: Webster is committed to its mission of accessible education. Our student services are oriented to enable technological access, academic support and awareness of mental health concerns. We have established a fund to help assist students who do not have existing access to technology devices for learning.
Course Delivery & Flexibility: There will be adjustments to face-to-face instruction as needed to adhere to safety and security guidelines. Remote learning activities and options will be a component of most classes, and some classes will be offered entirely in a remote format. Importantly, all classes will be prepared to shift to remote learning if it becomes necessary.
Residential Students: We are planning to have students living on campus, in a modified approach with reduced density, on the main campus in Webster Groves.
Technology: We have invested in additional technology to further strengthen the teaching and learning experience for faculty and students.
Security: Access to campus facilities and residence halls on the Webster Groves campus will be strictly controlled by Public Safety to ensure only authorized individuals enter each building.
Health: To help all of us follow best practices to maintain and monitor our health, self-screening and social distancing guidelines will be in place for all community members, and COVID-specific sanitation and disinfection procedures will be implemented consistent with CDC and local guidance.
Communication: Signage informing community members and visitors of new procedures will be installed on our campuses, and community members will be reminded of updates posted to the COVID-19 site and on social media.
Other details will continue to be finalized and announced throughout the summer as we prepare to welcome our new and returning students.
To our entire community, we thank you for your input and responsiveness during the entire pandemic response and forward planning process. This necessarily continues to be an evolving situation, so we urge you to continue to stay informed through these announcements and the resources that are added to the COVID-19 section of Webster's website.
The Webster University Task Force on Transition & Adaptability