Alumni Homecoming 2021: Together Again
Webster University alumni and friends were together again on the main campus for the much-awaited Alumni Homecoming 2021, where milestone reunion years were celebrated, new Golden Circle members were introduced, and award recipients from the past two years were celebrated in person after the pandemic required a virtual setting last year.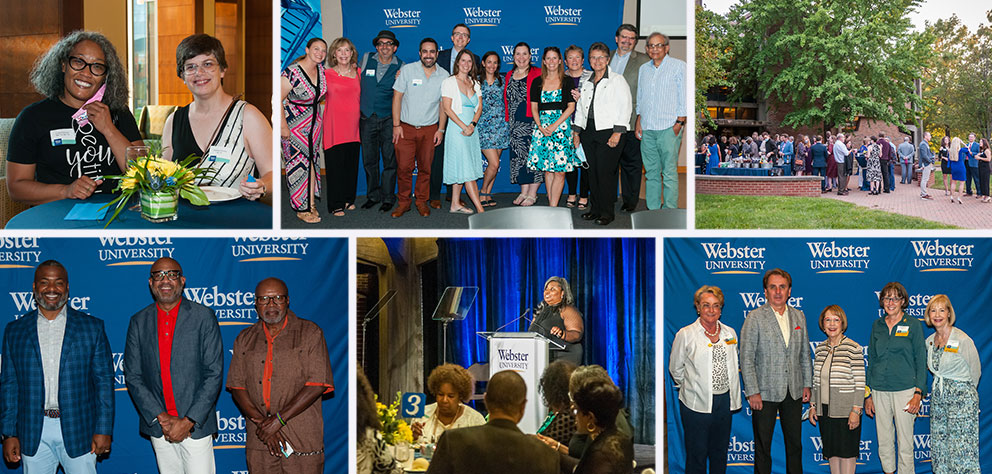 Events spanned Friday and Saturday nights and took place throughout campus, from the Luhr Building to the East Academic Building and the Visual Arts Studio.
See more info and watch videos of the Alumni Association Award honorees below.
Friday, Sept. 17: Together Again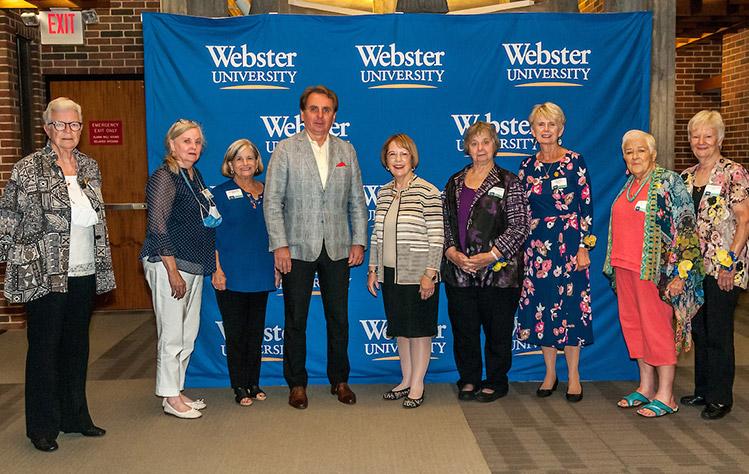 Golden Circle Luncheon: This annual event inducts classes celebrating their 50th reunion into the Golden Circle. With the pandemic preventing in-person events in 2020, this year's luncheon celebrated the classes of 1970 and 71.
Lightning Talks: Faculty members presented quick, informative dives into topics of their research interest.
Hunt Gallery Opening Reception: The gallery in the Visual Arts Studio and the patio outside was the setting for the opening reception of Justin Bailey: Traces I was here, featuring the work of this alum who received his BFA in Sculpture from Webster in 2012.
You are the heart, you are the spirit, and you are the embodiment of Webster's mission.
Alumni Awards Dinner: This event celebrated recipients of the Alumni Association awards from both 2021 and 2020, whose honorees had a virtual ceremony last year.
President Julian Schuster assured guests that their example continues in today's students. "As alumni, you understand the value of a Webster University degree...and the many opportunities that prepare students for success," he said. "You represent that success. Webster alumni are leaders, innovators, and change-makers. You carry on Webster's legacy and inspire future generations to find their own success..
2021 Alumni Association Award Honorees
As Senior Director of Alumni Relations Kelly Dopman said, "This year's honorees include a storyteller, an activist, an animator and an ambassador for Webster's mission. Be prepared to be inspired as we learn more about each of them."
The 2021 recipients:
Distinguished Alumni Award: Awele Makeba, BFA '84
Loretto Award: Kim Bouldin-Jones, BA' 87
Mary Elizabeth Newell Award: Vanessa Davis, MA '04 DMGT '15
Young Alumni Award: Leah Latham, BA '10
Below is the video tribute to Kim Bouldin Jones:
Related: here is the playlist link for video tributes to all four 2021 honorees.
Chancellor Elizabeth (Beth) J. Stroble echoed the applause for these honorees, and she also thanked Alumni Association Board president and triple alumna Alexandria McCuien for her dedication and support.
"You can hear in [Alexandria's] voice and her spirit and the way she talks with such pride, how loyal she is," Chancellor Stroble said. "Alexandria, I really appreciate your loyalty and your leadership for all alumni. Your spirit is just so obvious. It's a spirit of giving back and building the community to be better and stronger. And that is what Webster is all about."
Two of the 2020 honorees were able to attend in person and be recognized this year. Learn more about 2020 honorees Darrell Yates '99 & '00, the late Terry Gorski '74, Cody Renard Richard '10, and Michelle Eswein '93 in this 2020 announcement.
Saturday, Sept. 18: Halls of Fame and Happy Hours
Saturday was marked by celebrations Gorlok achievements while these alumni were students, with the Athletics Hall of Fame and Student Life Hall of Fame induction ceremonies. Guests were also invited to the women's and men's soccer games at WWT Soccer Park.
The final day also featured a happy hour for 1970s classes at the University Chancellor's Residence and an all alumni happy hour in the East Academic Building.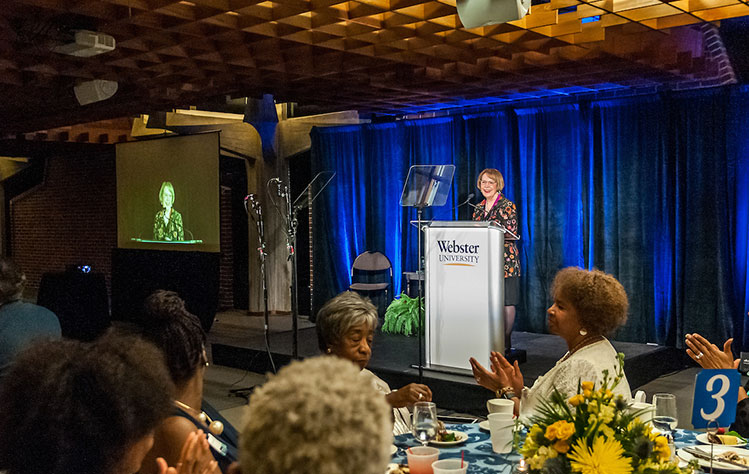 With the return of in-person events for students and alumni this fall, Chancellor Stroble remarked on the "attendance, the energy and excitement that is beyond measure" for events thus far this fall.
"No matter how long it has been since you graduated, and what kind of degree you graduated with, Webster will always be your alma mater. At whatever point Webster and your life intersected, we want you to be proud of the years you spent at Webster, and we are certainly proud of you.
"You are the heart, you are the spirit, you are the embodiment of Webster's mission."