CMS Preparatory Program Fall Rotation Concert Nov. 17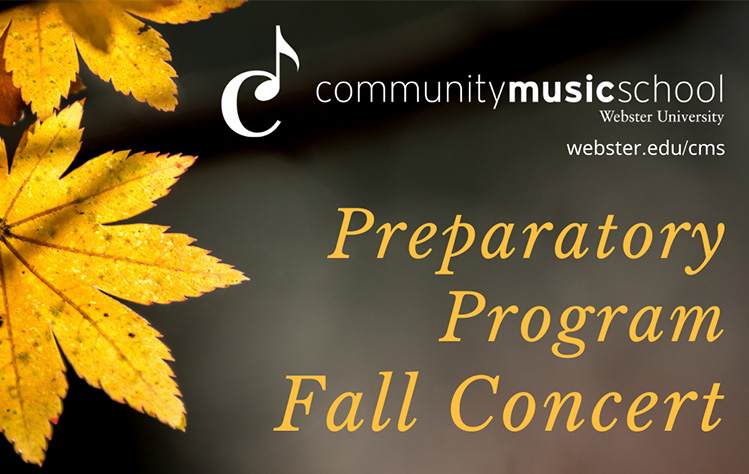 Community Music School (CMS of Webster University prep students are hard at work rehearsing music for the November concert. Listen to students perform great chamber works from the Classical and Early Romantic periods by attending our first performance open to an audience. Masks are required regardless of vaccination status.
The CMS Preparatory Program Fall Concert will be held in the CMS Concert Hall on Friday, Nov. 19, at 7 p.m. Repertoire will include works by J. Haydn, M.H. Haydn, Mozart, Danzi, Schubert, Taneyev, and Beethoven.
Don't miss your chance to hear some of the excellent future musicians from our area by attending or tuning into our YouTube channel.
Fall Chamber Groups:
Competition Quartets Sponsored by Chamber Music Society Saint Louis:
Rader Quartet coached by Jessica Cheng, Michael Casimir, Yin Xiong
Peccate Quartet* coached by Jessica Cheng, Michael Casimir, Yin Xiong
Loree Wind Quintet coached by Nadine Hur, Tzuying Huang, Julie Thayer
Ouchard Piano Quartet coached by Nina Ferrigno, Davin Rubicz
Sartory Quartet coached by Eva Kozma, Emily Ho
Voirin Quartet coached by Amy Greenhalgh, Kyle Lombard
Tubbs Trio coached by Nina Ferrigno, Kyle Lombard
Salchow Trio coached by Amy Greenhalgh, Emily Ho
Henry Duo coached by XiaoXiao Qiang, Kelly Karamanov
String groups are named after well-regarded bow/instrument makers except for the Rader quartet which has taken the name of a sustaining CMSSL sponsor.