Micaela Chyu Wins Inaugural CMS Prep Program Scholarship Competition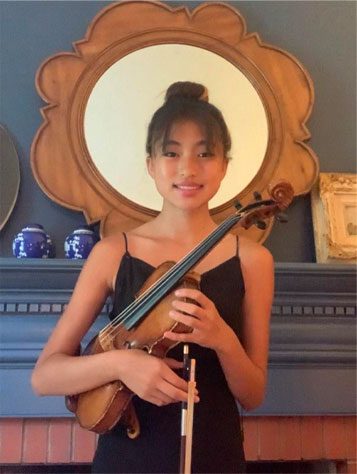 Congratulations to Micaela Chyu (violin) winner of the inaugural CMS Preparatory Program Scholarship Competition sponsored by Classic 107.3 The Voice for the Arts in St. Louis. Micaela was one of six finalists that competed for a full scholarship on September 12th in the CMS Concert Hall. Other finalists were Nathan Bronstein (violin), James Decker (piano), Bradley Smith (violin), Sophia Heaton (violin), and Natalie Van Winkle (cello).
The Preparatory Program (Prep) is the pinnacle of the CMS sequential music education program, positioning graduates for a lifetime of arts-rich success. It is an intensive program for developing well-rounded young musicians by offering high-caliber chamber music coaching from professional musicians, performance opportunities, mentoring, theory, multi-track recording, and special events.
About Micaela Chyu
Micaela (Micky) Chyu is a sophomore at Ladue High School and has been playing the violin since the age of six. Micky has been in the CMS Preparatory Program for the last three years and has been in the St. Louis Youth Symphony since eighth grade. She also loves to sing, play the ukulele and guitar, and runs on her school cross country and track teams. Micky currently studies with Angie Smart.
Competition Pieces:
Violin Concerto No. 4 in D Minor Op. 32, 1st mvt Vieuxtemps, Henry
Violin Sonata No. 1 in G Minor, BWV 1001, Adagio Bach, J.S.