New CMS Preparatory Program Scholarship Competition Sponsored by Classic 107.3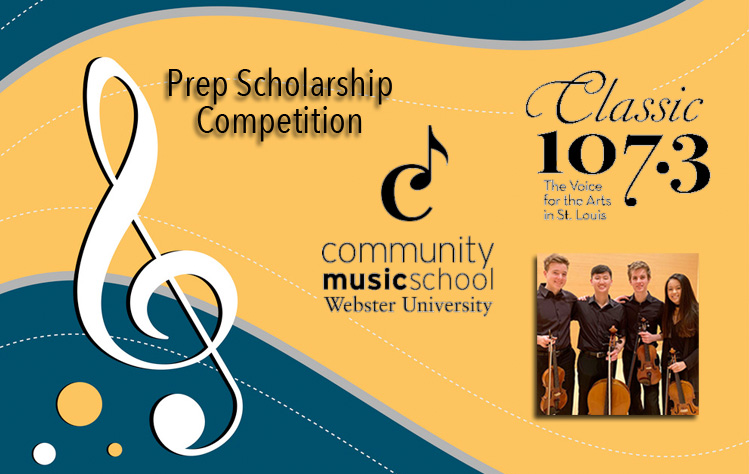 The Community Music School at Webster University has partnered with Classic 107.3 for the Community Music School Preparatory Program Scholarship Competition. Students applying for the 2021-2022 Preparatory Program may choose to compete for a scholarship for full tuition on Sept. 11-12. The first round of the competition/auditions will be held in the Winifred Moore Auditorium on Sept. 11, with the top four to eight students moving on to the final round held in the Community Music School Concert Hall at 3 p.m. on Sunday, Sept. 12.
The deadline for applications is Wednesday, Sept. 1. More information and the application to audition can be found at webster.edu/cms-prep.
"Classic 107.3 is so happy to encourage young people in the area to study music," said says John Clare, CEO and General Manager of Classic 107.3. "The opportunity to study with gifted instructors, make music with talented peers, and culminate later with a broadcast on the station is ideal programming. We appreciate the partnership with CMS, and look forward to hearing these young musicians."
The CMS Preparatory Program (Prep) is a rigorous chamber music program for advanced high school musicians. Developed by Vera Parkin, and now directed by Davin Rubicz, students in Prep experience high-caliber chamber music coaching from professional musicians, performance opportunities, mentoring, theory, multi-track recording, and special events. Prep is most appropriate for students interested in pursuing a major or minor in Music at the University or Conservatory level.
Important Dates
Application deadline
Wednesday, Sept. 1, 2021
Online video submission deadline (not considered for the Scholarship Competition)
Sunday, Sept. 12
First Round Competition Auditions*
Saturday, Sept. 11 | Winifred Moore Auditorium
Final Round Scholarship Competition
Sunday, Sept. 12 | CMS Concert Hall
There is a $40 competition fee for students auditioning in-person and entered into the CMS Prep Scholarship Competition.