Jackie Joyner-Kersee Addresses Grads at Webster University 2021 Commencement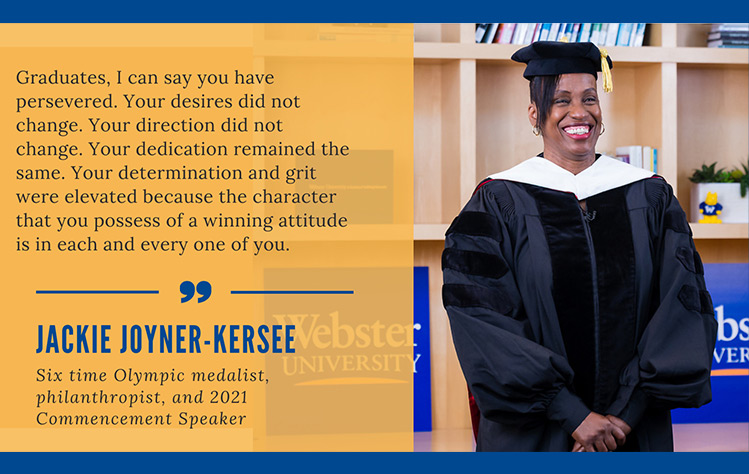 Webster University presented its 102nd annual Commencement in a virtual environment on Saturday, May 8, 2021.
World record-breaking athlete Jackie Joyner-Kersee addressed graduates and, along with Virginia (Jinny) Jackson Browning, received an honorary doctoral degree. Joyner-Kersee received an honorary Doctor of Humane Letters, and Browning was awarded an honorary Doctor of Laws degree.
Graduates were welcomed by Rob Reeg, chair of the board of trustees, and also heard remarks from Chancellor Elizabeth (Beth) J. Stroble, President Julian Z. Schuster, and Alexandria McCuien, president of the board of the Webster University Alumni Association.
With the virtual setting as a result of the pandemic, the main ceremony and a tribute video to honorary degree recipients was embedded into remarks from individual deans and the scrolling of graduates' names. The version with remarks and names for the Leigh Gerdine College of Fine Arts, can be viewed here:
All versions can be found through these links:
Class of 2021 Profile
Overall, the Class of 2021 numbered 4,642 graduates overall [3,509 Graduates and 1,133 Undergraduates], including:
21 Webster faculty or staff members, and 23 children or spouses of faculty or staff;
Oldest graduate is 73 years old at the Myrtle Beach campus.
Youngest graduate is just 19 at the Webster Groves campus
The class is represented by 104 different countries, and 47 U.S. states represented, plus the District of Columbia, Guam, Puerto Rico and the U.S. Virgin Islands.
48 of our graduates are currently stationed overseas with the U.S. Military.
222 undergraduates earned University Academic Honors, and 287 graduate students graduated with Graduate Academic Honors.