Conservatory Presents 'The Miraculous Journey of Edward Tulane' Dec. 3-12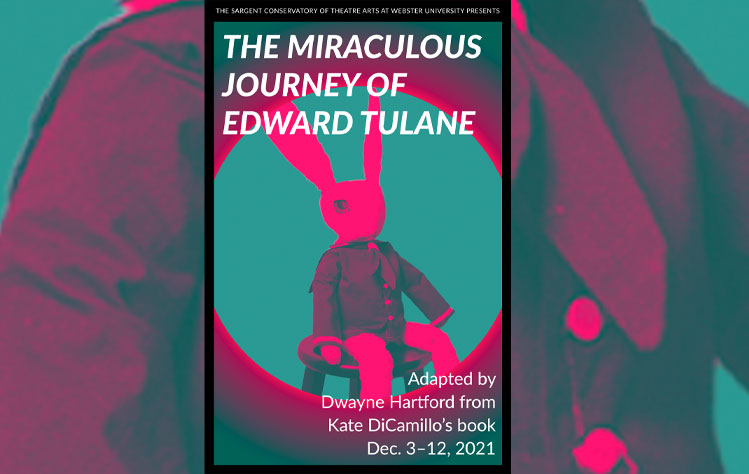 The Sargent Conservatory of Theatre Arts invites audiences of all ages to The Miraculous Journey of Edward Tulane in Stage III, running Dec. 3-12. Based on Kate DiCamillos beautiful novel and featuring original accompaniment composed by Webster student Noah Lovins, the play follows Edward Tulane, an expensive toy rabbit made of china, on an adventurous journey that teaches him what it is to love, what it is to lose that love, and how to find the courage to love again.
The Miraculous Journey of Edward Tulane is directed by Conservatory faculty member Doug Finlayson.
Tickets
Click here to reserve tickets.
Performance Schedule
The show is in Stage III in the lower level of Webster Hall (470 E. Lockwood Ave. Webster Groves, MO 63119).
Friday, Dec. 3, 7:30 p.m.

Saturday, Dec. 4, 11 a.m. and 4 p.m.

Sunday, Dec. 5, 2 p.m.

Friday, Dec. 10, 7:30 p.m.

Saturday, Dec. 11, 11 a.m. and 4 p.m.

Sunday, Dec. 12, 2 p.m.
Safety Measures
We in the Leigh Gerdine College of Fine Arts and across Webster University are doing all we can to protect the health and safety of our students, faculty, staff, and patrons. For the safety of our audiences and performers, masks are currently required for attendance at all Webster University and College of Fine Arts indoor events, regardless of vaccination status. This includes all concerts, theatre and dance productions, and gallery openings. The College of Fine Arts will refuse entrance to unmasked individuals. All attendees are strongly encouraged to be fully vaccinated against COVID-19.University policy requires masks in indoor spaces and Webster University students and employees are required to be vaccinated in accordance with Webster University policy.Please know that our number one priority is the safety, health and well-being of our audiences, staff, faculty, and the young artists whose families have entrusted us with their care.Thank you for your patience and understanding.