Webster University Department of Dance Presents SYNERGY, Bachelor of Fine Arts Choreographic Concert
The Webster University Department of Dance, in the Leigh Gerdine College of Fine Arts, will present SYNERGY, a concert showcasing the original choreography of senior BFA Dance candidates Madison Zumwalt, Ashley Johnson, and BA Dance candidate Maddy Bergmann, Oct. 7-9 on the main campus in Webster Groves.
Tickets and Performance Times
SYNERGY runs Oct. 7-8 at 7:30 p.m., and Oct. 9 at 1 and 4 p.m. The performance takes place in Stage III, the lower level of Webster Hall, 470 E. Lockwood Avenue.
Ticket prices are $15 for adults, $7 for seniors, Webster alumni, and non-Webster students, $2 for children 12 and under, and free for Webster students, faculty, and staff.
Visit lgcfa.brownpapertickets.com and select your performance date and time to purchase tickets.
Seating is limited. Reservations are highly recommended. Masks are required.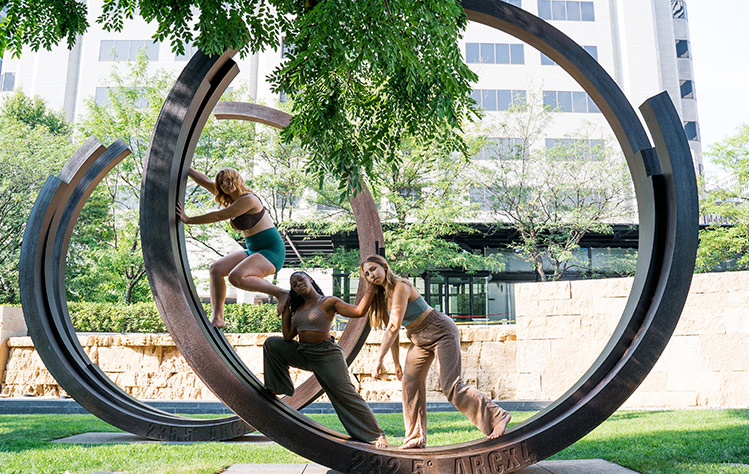 Choreographer Statements and Background
Madison Zumwalt says, "Throughout this process I have been interested in exploring themes of femininity through the lens of womanhood, environmental activism, and journeys of self-reflection. Each work invites the audience into a new world to consider new ideas and perspectives. My works strives to leave audiences moved in both narrative and physical movement."
Zumwalt started her dance training in 2010 at Ballet Praise in Fairbanks, Alaska, and continued her dancing at studios in Tennessee and West Virginia during her youth. Throughout her time at Webster, she has created several works that have premiered in the Creations Concerts and the "Tomorrow Matters" showcase.
"My work strives to be authentic, relatable, human-like, physical and community based" says choreographer Ashley Johnson. "Each piece explores a different era in my life, from childhood to adulthood. Each work invites the audience to open their hearts and allow the kinesthetic feeling to take over when watching or receiving."
Johnson, a native of Chicago, Illinois, began her dance training at Ballet Legere, The Chicago Multicultural Dance Center (CMDC), and The Chicago Highschool for the Arts. Her training outside of Webster includes Dance Theatre of Harlem, Atlanta Ballet and CMDC summer intensives. Ashley has also had the opportunity to perform and be a part of the K/P Project under the direction of Kameron Saunders and Prince Lyons.
Maddy Bergmann's choreography aims to touch on "the concepts of healing and regrowth as a community." She hopes to give her dancers the opportunity to build deeper connections together as she reflects on her experience at Webster.
Originally from Eldridge, Iowa, Bergmann began dancing at the age of 3 at Dancin with Gigi and later Above the Barre Dance Academy until 2018. Outside of Webster University Dance Ensemble performances (WUDE), New Works, and BFA concerts, Maddy has had the opportunity to compete at the Youth American Grand Prix Competitions (YAGP) in Carmel, Indiana.
Webster University Department of Dance
For more information on the Department of Dance: call 314-246-7747, email dance@webster.edu, or visit the department website at www.webster.edu/dance.
Photos by Emma Bright