Professor Murray Farish Receives Emerson Excellence in Teaching Award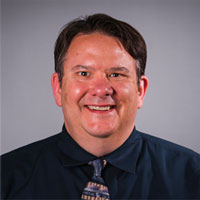 Webster University's Murray Farish, an associate professor for creative writing and literature, was named one of the top professors in the St. Louis metropolitan area by the Emerson Excellence in Teaching Awards program. The announcement was made earlier this week.
"Murray Farish is well respected by his colleagues, students and by alumni for the passion he expresses while teaching literary analysis," said College of Arts & Science Interim Dean Michael Hulsizer. "During the pandemic, he became a leader in adopting new technologies to make sure his students received the highest quality of education possible, despite the circumstances that kept us all remote. I offer my congratulations to Murray for this honor."
The annual Emerson Excellence in Teaching Awards program recognizes St. Louis area instructors, selected by their schools' administrators, for their accomplishments and dedication to their students and the teaching profession. This is the only public recognition event of its kind to honor teachers in both Missouri and Illinois.
Earlier this year, Farish received the Kemper Award for Excellence in Teaching. The Kemper Award is presented each year to two full-time and two part-time faculty members at Webster University who demonstrate teaching at its finest. Nominated and supported by students and colleagues, they are selected by a committee of their peers for their outstanding teaching. The award is funded by the William T. Kemper Foundation.
In 2014, Farish published his first book, a collection of short stories titled "Inappropriate Behavior: Stories." Individual stories by Farish have been published in The Missouri Review, Epoch, Roanoke Review, and Black Warrior Review, among other publications. He has been awarded the William Peden Prize, the Phoebe Fiction Prize, and the Donald Barthelme Memorial Fellowship Prize.
Besides Farish, several Webster University alumni were also recognized:
Amie Gossett MAT '17 – Parkway West
Lauren Schoellhorn – MA '12 – Eureka High School
Monika Hasanbasic BA '10, MA '11 – Bayless High School
Mary Glasgow BFA '82, MAT '04, MA '11 – Brentwood High School
Katina Harshbarger MAT '07 – St. Mary's Hospital Vocational Skills Program
Jian Cai MBA '13 – Washington University
"As part of Emerson's commitment to education and our hometown community of St. Louis, we are proud to champion the critical role of teachers in guiding and shaping the lives of the next generation of innovators," said Akberet Boykin Farr, vice president of diversity and social responsibility for Emerson. "These 85 teachers across the St. Louis region truly inspire us, and with the Excellence in Teaching Awards, we honor their achievements and commitment to empower our community through education."
For more information on the award, visit emerson.com/en-us/about-us/corporate-social-responsibility/community-involvement/excellence-in-teaching.