Webster Ghana Reaffirms Dedication to Ending Discrimination and Violence Against Women and Girls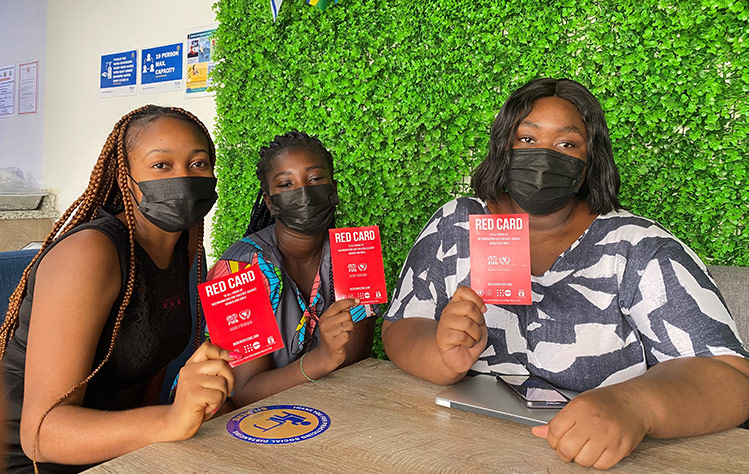 On Thursday, Oct. 14, Webster University Ghana Campus, in partnership with African Renaissance Diaspora Network's (ARDN) Red Card Campaign (#RedCardpledge) engaged in conversations during a virtual Red Card workshop to raise awareness and address the violence against women and girls from the perspective of the bystander. The school previously held a public lecture centered around this topic earlier in the year, in February.
The theme of the October workshop, "The Bystander Effect in Domestic and Dating Violence among young people," was a great topic to engage the Webster community as well as students from other universities who participated in the workshop. The aim of this workshop was to encourage bystander intervention in intimate partner violence and domestic violence against women to help reduce the prevalence of such violence in our communities.
Abigail Hunu, the guest speaker who led the discussion, is a member of the United Nations Population Fund (UNFPA) and specializes in women's human rights as well child protection issues. She started the conversation by elaborating on the different types of abuse and the signs and signals to look out for as some women may confuse abuse for love.
She explained domestic violence in the context of gender dynamics, as well as the risks confronting victims and survivors and then proceeded to suggest what we can do to support victims, as bystanders.
Reasons such as group cohesiveness, ambiguity of the situation, diffusion of responsibilities and myths were stated to be some of the influencers of the bystander effect in Ghana. She challenged the audience to help change the narrative in our own small ways in schools, churches, and other scenarios and to shift the responsibility from victims/survivors to the families, friends and community at large. Additionally, she shared what services have been made available for survivors/victims and how we can be of help to others by reporting domestic violence cases through a helpline she provided.
The discussion ended with all audience members taking the pledge to raise red card to all forms of violence and discrimination against women and girls. We are beyond grateful to our students, staff, faculty, students from other universities as well as everyone else who continues to stand against discrimination and violence towards women and girls worldwide by signing the #RedCardPledge.