Remembering Steven Woolf, Former Rep Artistic Director and Webster Faculty Member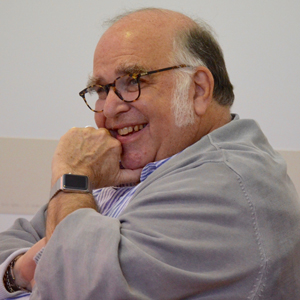 Webster University joins the entire arts community in remembering Steven Woolf, who was the longtime artistic director of the Repertory Theatre of St. Louis and an adjunct faculty member in the Webster University Leigh Gerdine College of Fine Arts. Woolf, who died Monday at age 75, left a lasting mark on theatre, on the St. Louis region, and on his many students and faculty collaborators at Webster.
During 33 years at The Rep, Steve was known as a consummate artist, professional, supporter and visionary. He shared his passion for telling good stories with Rep audiences and Webster students, alumni and faculty alike.
Woolf had retired from the Rep and from teaching in 2019, but appreciation for his partnership and vision continues.
"Steve's collaborative approach to producing exceptional quality for St. Louis audiences while providing meaningful opportunities for emerging professionals was unique – making both entities stronger" said Paul Steger, dean of the Leigh Gerdine College of Fine Arts at Webster. "We are forever grateful to Steve for his leadership and willingness to share the stage with our students over his more than three decades at The Rep."
For Conservatory faculty, students and alumni, "Steve was our colleague, our mentor, our cheerleader, our good friend," said Gad Guterman, chair of the Conservatory.
Edward Coffield, Woolf's longtime collaborator at The Rep and a current Conservatory faculty member, recalled that Steve was always "so proud and honored by his association with the Conservatory."
The Webster University community extends condolences to his family and friends, and to all those touched by his work.
An article about Woolf's legacy can be found in the St. Louis Post-Dispatch.