Webster Shares Education, Innovation Expertise with World Languages Students, Faculty in Tashkent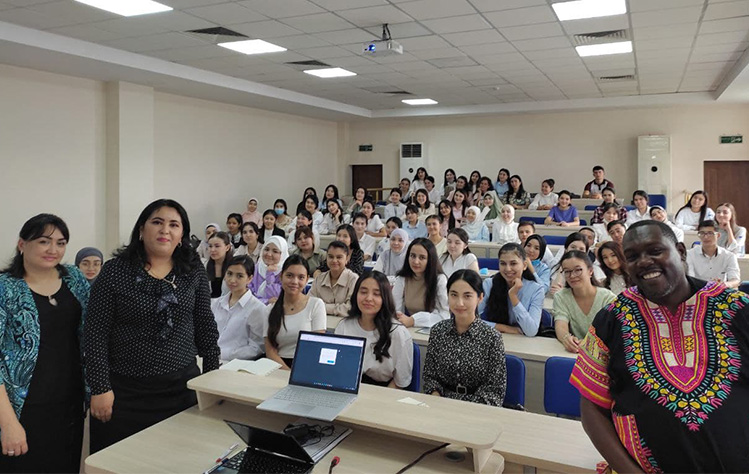 Basiyr D. Rodney, chair of the Department of Teacher Education in the Webster University School of Education, is visiting Tashkent this month to build support for the MA in Education and Innovation (MA EDIN) program and to share his international expertise with teachers and educational professionals in Uzbekistan.
On Sept. 8, Professor Rodney gave an interactive guest lecture on Education and Social Innovation to a class of approximately 100 students at Uzbek State World Languages University.
During the lecture Rodney introduced the Nearpod app as an interactive tool for student engagement, student commenting and sketching activities. The predominantly sophomore class, their two lecturers, and a dean of the English department expressed appreciation for the presentation.
Students were invited to offer insights into the education system in Uzbekistan. They expressed a desire for new methods and new pedagogies that encouraged learning participation. Rodney and Rokhatoy Boltaeva, MA EDIN coordinator in Tashkent, explained that Webster University in Tashkent is built on a model of student engagement and participation. Our innovative flexible classes and responsive teaching approaches could be experienced by pursing graduate degrees at Webster.
Following the presentation, Rodney and Boltaeva sat with the a dean of the English department and discussed important aspects of English education and English language learning. The dean expressed interest in continuing to work with Webster University in order to learn from students and provide new methods of student engagement. The partners discussed further ideas for collaboration between Webster University and the Uzbek State World Languages University