New Agreement Lets Jennings High School Students Earn College Credits at Webster University
Students at Jennings High School are getting a jump start on college. Under a new agreement with Webster University's School of Communications, Jennings students who take an introduction to animation course at the high school can transfer those credits to the University's animation program. The agreement was announced April 13.

"Jennings High School offers an animation course in a lab equipped by Lion Forge, and students in that course can earn credits that fulfill our introductory Animation course requirements," said Eric Rothenbuhler, dean of Webster University's School of Communications. "This provides a special opportunity for Jennings students to get an early start on the path to college and a special opportunity for us to partner with a great school district and work with these creative young people."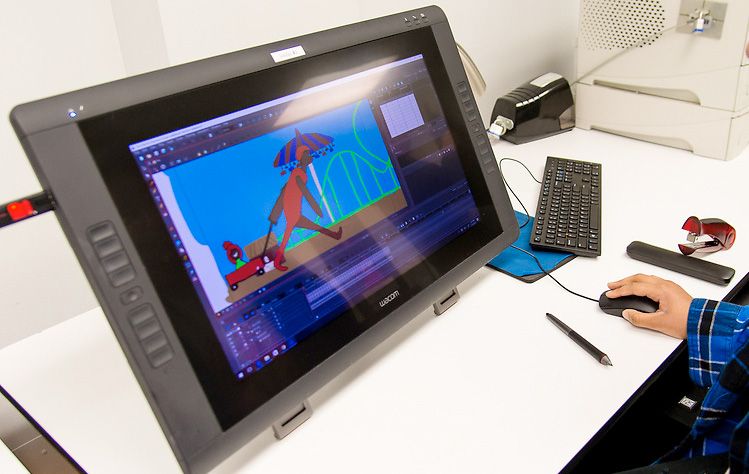 The animation course at Jennings High School is offered as an art elective to fulfill the graduation requirements for the district. Currently, the class has about 20 11th and 12th grade students enrolled. In the course, the students learn the basic principles of animation and produce a short film by the end of the class. Last year, Lion Forge LLC - a St. Louis-based company – donated equipment to Jennings High School for the animation program. Lion Forge produces graphic novels, comic books and animations with a specific focus on diverse stories. Their short film "Hair Love" won the Academy Award for best animated short in 2020.
"Jennings School District is thrilled to partner in this amazing way with Webster University and Lion Forge to provide innovative programs like this one," said Jennings School District Superintendent Art McCoy, Ed.D. "This high school animation course and career academy, which offers college credits through Webster University and professional mentors and internship opportunities through Lion Forge, is the first in the state and one of the first in the nation. There are no better leaders and partners in this nation to help enhance innovation, education, and workforce pipeline."
The Jennings School District has more than 2,500 students and is headquartered in Jennings, Missouri, a town located north of the City of St. Louis and East of Ferguson. For more than six years, 100% of students at Jennings High School have entered college or started an entry career. Approximately 40 percent of the student entered an institution of high education and the remaining students either found work in the private sector or entered the military.
The school district has focused on post-graduate success, driven in part by the circumstances faced in the community. According to the U.S. Census, the average annual income in Jennings is about $34,000, and about one-fifth of the community has an income level that falls below the official U.S. poverty scale. Approximately 80 percent of adults in the community have a high school degree, and 8 percent have completed a college degree. Both completion rates are below the national averages of 85 percent and 35 percent respectively.
For more information about the Jennings School District, visit Home - Jennings School District (jenningsk12.org).
For more information about the Webster University School of Communications, visit School of Communications (webster.edu).