Two Nursing Faculty Members Complete Doctorates Thanks to Hearst Foundation Grant
In 2016, the Webster University Department of Nursing was awarded a $100,000 Hearst Foundation grant to promote the hiring of at least two new nursing faculty members who agreed to obtain their doctoral degrees or who were working on doctoral degrees in nursing. Faced with a shortage of doctorally prepared nurse educators in the U.S., this grant supported the hiring of master's prepared content experts who would work towards doctoral preparation.
The Nursing Department announces the completion of doctorates by Webster two faculty members through this grant: Jody Spiess and Stephanie Dribben.
Jody Spiess, PhD, RN, GCPH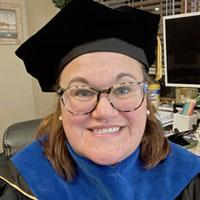 Jody Spiess joined Webster University in the Fall of 2016 and brought her expertise in population health to the team. The future of nursing is the care of individuals in their communities and addressing the health needs of vulnerable populations.
The visibility of population health nursing has been at the forefront with the COVID pandemic and Spiess' work on the Webster University's COVID-19 Taskforce and now with widespread vaccination efforts. Her timely dissertation on "Community Health Nurse Educators and Disaster Nursing Education" was completed in December 2020, during a pandemic.
Stephanie Dribben DNP, RN, ACNP-BC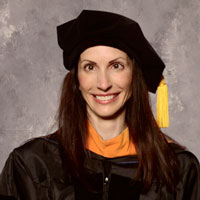 Another major issue of the St. Louis community is violence and related injuries. Stephanie Dribben completed a Doctorate in Nursing Practice (DNP) project on the impact of training, support and quality feedback on the collection of violent injury-related data by staff, especially physicians and nurses, in emergency departments.
Dribben joined Webster University in the Fall of 2019 and experienced project interruptions due to COVID-19. She persevered and completed her doctorate in December 2020.