Webster Graduate Wins Emmy with Surprise Squad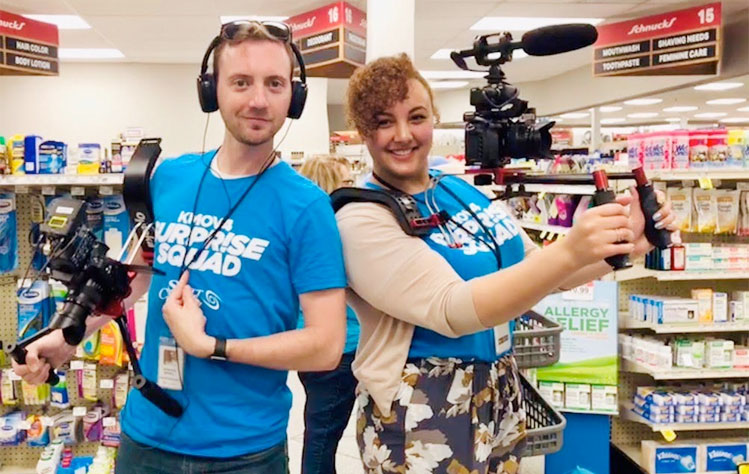 Webster alumna Sierra Hancock loves surprises, which is why she enjoyed working with KMOV's Surprise Squad. But one surprise she never imagined happening to her was winning a regional Emmy. Hancock and her team won for their work on the Surprise Squad story about McCluer South-Berkeley High School coach Todd Shelton, announced at the 2020 Mid-America Regional Emmy Awards.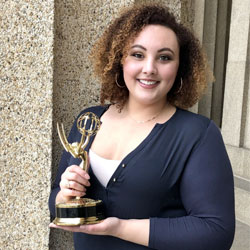 Hancock graduated in Dec. 2015 with a degree in journalism and is now the creative group producer for Meredith Corporation in Nashville, Tennessee. But at the time she was helping create the story that earned her an Emmy, she worked as a creative services producer for KMOV in St. Louis.
It's just incredible to have gone from Webster's journalism program to working for a media company and having an Emmy under my belt at 26 years old as a black female.
"The Surprise Squad project that won the Emmy was definitely the biggest out of the seven or eight that I had already worked on," Hancock said. "We would go into the community and try to make people's lives a little easier, from small things like buying their gas or groceries, to big-scope projects."
And Shelton needed one of those big-scope projects. After being left paralyzed by a stray bullet last February, Shelton was nominated for a visit by the Surprise Squad by one of his friends. According to Hancock, KMOV had previously done a news story on Shelton, so when the team saw that he was nominated, they knew they had to do something. "We were like, 'wow, yeah; we actually did his story earlier in the year, now if we can come in and help this family out, that would be an amazing full circle kind of a story,'" she said.
But the surprise squad didn't only surprise him once; they surprised him twice—once at his house and again at a homecoming game. According to Hancock, the surprise at his house involved the Squad building him a ramp and giving him some money, but the biggest surprises, which included a jersey signed by Shelton's favorite football players, a proclamation by the Mayor that declared Oct. 12 as Todd Shelton Day in the city of Florissant, and a wheelchair accessible van.
"It was just amazing, being able to surprise someone who had genuine need, and them be so thankful for that," Hancock said. "To be able to come together as a community and do something for someone who does so much for others is huge and that's what the Surprise Squad is about. Anytime that we can give back to the community and do things other than just covering a murder or fire or crash, that's where I really get excited."
Hancock was one of four videographers on the team—and the only female and person of color. She believed that her work on the show helped break barriers. "It's definitely a white male dominated profession, so to be able to break in there and show that I can go get down and dirty and do the hard work, do everything that they're doing, and win an Emmy for it too is just great," she said.
At first, she said the fact that she had won an Emmy didn't sink in right away. "I think I got more hyped up when other people were like, 'oh that's incredible!' I was like, 'I guess it is.' And then looking at the category, there was another female in there, but she was a white woman, so I was the only person of color in there. And on my team, I was the youngest, so it was something I took away from KMOV because at the time I won it, I had already been laid off."
Hancock said that there are a lot of people at Webster who helped her get to where she is now. "I had some great teachers at Webster. I took a lot of journalism classes with Mary Cox and Larry Baden. Also my advisor Eileen Solomon. They taught me many tips and tricks that have stayed with me. I just think of what shots and which sounds are going to be the best, and how can I get someone to watch this two-minute video? I need to make sure they're engaged from the start. I definitely give a lot of credit to what I learned there from those teachers specifically."
She continued, "It's just incredible to have gone from Webster's journalism program to working for a media company and having an Emmy under my belt at 26 years old as a black female. I just never thought that something like this would happen. It's surreal and incredible, and I'm just so thankful for everything that Webster taught me on the way, and the skills that I've been able to take from other producers."
As for what's next for Hancock, she says she has her eyes set on another Emmy, not as a videographer this time, but as a producer. "That would be really cool to say, like 'Oh, this was my vision that we won an Emmy for,' but either way, winning one for my video work, that's great too." She also hopes that her Emmy will help her propel her side business, CC CreatiV to new heights. "I started CC CreatiV in 2019 with the goal of helping local small businesses attract more clients and show their best work," she said. "With this Emmy award I hope more clients will see the value in my video services and come to me to make their business shine."
Overall, Hancock said that it was exciting to be a part of Shelton's story. "Of course, I didn't know I was going to win an Emmy, but I already knew how much of an impact it was making on the family. The Emmy was just the icing on the cake. It was wonderful to have received that, and I'm so grateful for it, but I think about this story all the time and how we were able to help this family, and that's what the true reason for doing it is. Like, we don't do it to get an Emmy; we're doing this, to change lives."
Click here to watch/read the news story that won Hancock and her team an Emmy.