Webster Grad Places in Nicholl Fellowship Scriptwriting Semifinals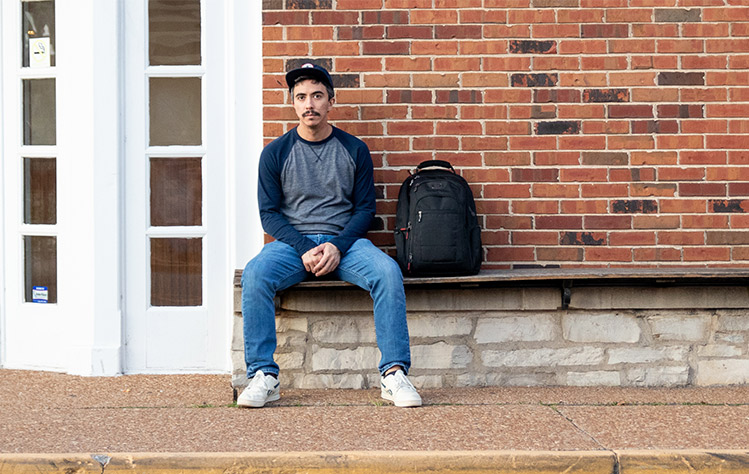 Webster University alumnus Andy Compton, a 2020 graduate from the School of Communication's scriptwriting program with a minor in film and television production, is attracting a lot of attention in the film community. Two of his scripts have been selected for the semifinal round of the Nicholl Fellowship Competition.
The Nicholl is sponsored by the Academy of Arts and Sciences, which also produces the Oscars, making it the most prestigious screenplay competition in the world. To have even one script make it on the short list is a feat, but Compton has two scripts on the list, out of more than 8,000 entries. Simply placing in the Nicholl—not even winning—has been known to jumpstart many a writer's professional career.
"Last year, I entered both of these scripts and they both got rejected first round," Compton said. "So, when I got the emails this year that I'm a semifinalist not once but twice, I was completely shocked and super excited that they both made it in. It was crazy."
Both of his scripts were the result of his time at Webster. His first script, "Suplex," follows the story of 18-year-old Wyatt, who turns to the violent sport of backyard wrestling to escape his toxic homelife and end the cycle of always being a victim.
His second script, "Bellyache," follows the journey of an elementary school lunch lady who becomes an internet sensation overnight because of a story her daughter writes about her getting fired for giving a less fortunate student free lunches at school. But as a result of the story going viral, the skeletons in her closet also threaten to get revealed.
Providing the tools needed to make films at no extra cost is a huge advantage ... the difference at Webster is hands-on learning
Importance of Faculty Mentorship, Feedback
Compton said that one of the professors who influenced him the most during his time at Webster was scriptwriting instructor Peter Hanrahan.
"Peter has been there throughout my journey at Webster and was just a fantastic mentor," he said. "Even now, there's never a time that I think I can't shoot him an email and ask his advice or ask him to read one of my scripts, and he's even introduced me to a few people in the industry."
Beyond mentorship and hands-on learning, Compton said that the huge disposal of resources available to film students also helped set him up for success. "Providing the tools needed to make films at no extra cost is a huge advantage. And when you leave school, the projects you made are your calling cards that you can show people," he said.
"I probably could have found all the information for filmmaking and scriptwriting online, but at Webster the difference was that there was hands-on learning. I was getting taught in person and forming this network of students and professors who give feedback to each other. These things that you get from the film school experience are things that you can't as effectively get online."
Compton said that the biggest struggle he faced when writing his scripts is overcoming imposter syndrome.
"Naturally, I think, 'Well I like horror movies and this particular one in theaters is doing really well, so maybe I should go write that.' But you should look at your life and find the things that are important to you and ask yourself why you want to write, what is it that you want to say, and write about that instead. Movies aren't about what you're seeing on screen; they're about something else and the movie is a commentary on that."
Scripts Informed by Life Experiences
Compton said that both his scripts are parallels with aspects of his own life. "'Suplex' is about my feelings of being afraid and out of place being in a community college as a 27-year-old after being a high school dropout," he said. "So 'Suplex' is about this young kid who's kind of scared of the world, entering this crazy violent backyard wrestling league, but it's really about me at 27 going to community college and just being scared that I wasn't cut out for it. And it's told through this other lens."
"And then with 'Bellyache,' my mom actually worked at an elementary school where she actually had to take food trays out of an 8-year-old kid's hands and it broke her heart," Compton said. "Because anytime she told me about it, it just really stayed with me how immoral that feels. It goes against what we should be doing as humans. And then there's stuff in there about alcoholism and things like that which has touched my life in several ways, too."
Compton said that he hopes to use his placement on the short list as leverage to secure a literary manager to coach him and help find him a paying job. "I haven't made any money from this stuff yet. But I'm hoping it happens soon. I'm working at it every day, you know. It's such a long game; it's not 'where am I going to be in five years?' It's 'what am I going to accomplish today?'
"Each step gets me a little closer."