Webster Tashkent Student Organizes Mission Teaching English on Fall Break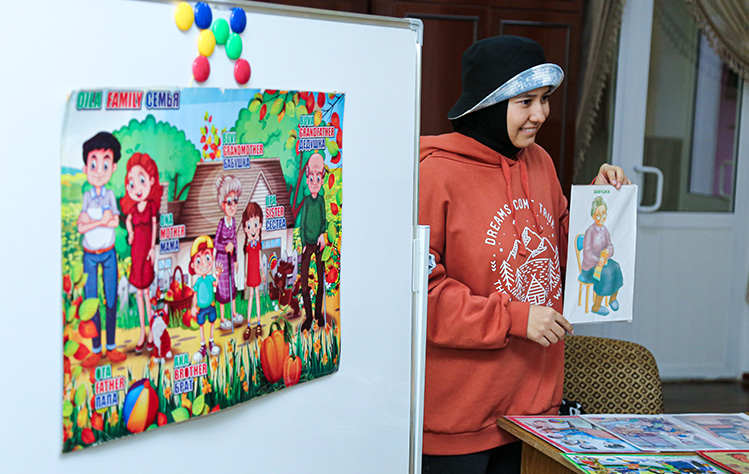 Having moved to Tashkent to start her university education at Webster, this fall break Siverina Davranova brought some of the university community back to her hometown of Bekabad.
Located 130 kilometers (81 miles) south of Tashkent near the Tajik border, Bekabad is one of Uzbekistan's metallurgical towns. Its key economic asset, the Uzbek Metallurgical Plant (usually called O'zmetkombinat) opened in 1944 and was the first steel plant in Uzbekistan.
As a single-industry town, one of several in the republic, most of the organizations in Bekabad are either operated by the metallurgy, serve it, or are adjacent to it. The plant owns several preschools, where Siverina's mother, Elzara Veliullaeva, is the head of departmental kindergartens at the plant. Veliullaeva wanted to inspire her young learners to study English, and asked her daughter to help.
"[My mother] asked me if it will be possible to organize volunteering trip to popularize idea of learning English and other languages among preschool children. I decided that it'll be great to give such opportunity to children, because when I was their age I never thought that it'll be possible."
Enlisting the help of the campus career development coordinator, Shokhista Rakhimova, Siverina convinced Webster instructor Johannes (Johan) Claasen to join the mission. The sophomore also personally recruited another instructor, Patricia Celeti, as well as a dozen fellow students. As a result, 16 people travelled to Bekabad during fall break.
Initial Apprehension Fades in Front of Young Pupils
Going into the mission, some of the volunteers shared that they felt apprehensive and unsure of their abilities. Only a few in the group had experience teaching English. Margarita Ruslanova, an undergrad, said, "To be honest, the thought of teaching small children terrified me. I didn't know how to work with them and what to do."
The group of young teachers supported each other throughout their journey, according to Margarita: "The people who went with us on this trip turned out to be an incredibly friendly team, and we supported each other. I was amazed at how much I enjoyed working with children."
Siverina also revealed that she did not plan to teach, but had to step in as a replacement when one of the volunteers dropped out in the last moment. "The whole team supported and helped each other throughout."
One of the contentious points of missions such as these is always the question of what happens when life goes back to normal at the site of the mission. In the case of this visit, the main goal was to get young children to believe in their ability to acquire a foreign language by seeing people who are exactly like them excel at speaking one.
During the five days of classes, the kindergarteners received their first foundational lessons in English. The volunteers reported the kids were far more engaged than expected.
Preschoolers Exceed Expectations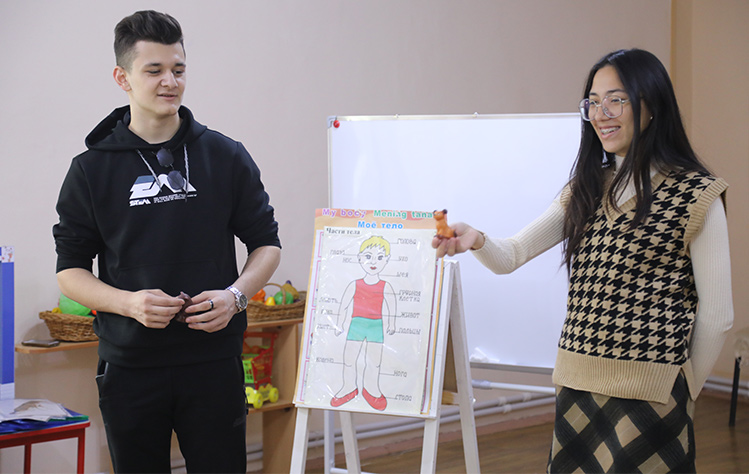 "I was surprised by children's ability to learn English words so fast," Shirin Salimova said. "They showed genuine interest in learning the new language and were incredibly active and diligent."
She recalled that at the end of the visit upon summarizing the lessons, "we were amazed at all the children's correct answers and at the same time in English and translated into Russian and Uzbek. At some point we even started to ask if they had any English before, but we were assured they learned everything during our English lessons."
Claasen, one of the instructors who accompanied the students, said, "Based on feedback from school principals, teachers and staff, we exceeded their expectations. All kids were well-prepared by their class teachers, who proudly sat in to observe our engagement with their pupils."
The kindergarteners were taught based on a curriculum designed by Veliullaeva with input from Siverina. The student-organizer explained that the volunteers "organized different interactive activities using ball, cards, toys, music." Every class was followed by reflection, feedback, and brainstorming teaching tactics.
The volunteers reported the trip was a valuable experience as they were made to step into new roles as teachers working with a very young audience. Even though they enjoyed the process, they realized it's a challenging occupation.
I was reminded of simple life lessons, like opening your mind for something new, being sincere and enthusiastic.
"I found out that giving knowledge requires a lot of time, resources and efforts," Saida Khalmedova said. It required the students to exercise creative thinking and out-of-the-box approaches, according to Shirin: "I realized how important it is to make the process of education more interesting and interactive. Playing games or doing funny exercises help children comprehend new information better."
Winter Follow-Up Trip Already Being Planned
The undergrads who were interviewed for this story all wrote of their positive impressions and thoughts coming out of the trip. Saidaboss Saidov explained how he had to adjust to the situation: "First day I was confused, but already at that moment I caught myself in my hands and continued to have interesting lessons with children." Azim Ganiev shared that "I decided to go to the trip just a couple of days before, and my risky decision [paid off]."
Regarding lessons learned thanks to the teaching visit, Shakhsanam Ravshanbekova reflected, "I was reminded of simple life lessons, like opening your mind for something new, being sincere and enthusiastic." In her reply, Margarita wrote: "you should never be afraid of something new. You should always expand your horizons … meet amazing people. After all, it is precisely because of this our life is so interesting."
Siverina, as a local, had a special perspective on the visit: "It was very unusual to live in a hotel in my hometown and teach children with [other people from] university… I didn't think everyone would love the city so much and want to come back." Siverina is already planning another journey to Bekabad during the winter break.