How One Student's Dream of Studying in Vienna Led to a Double Major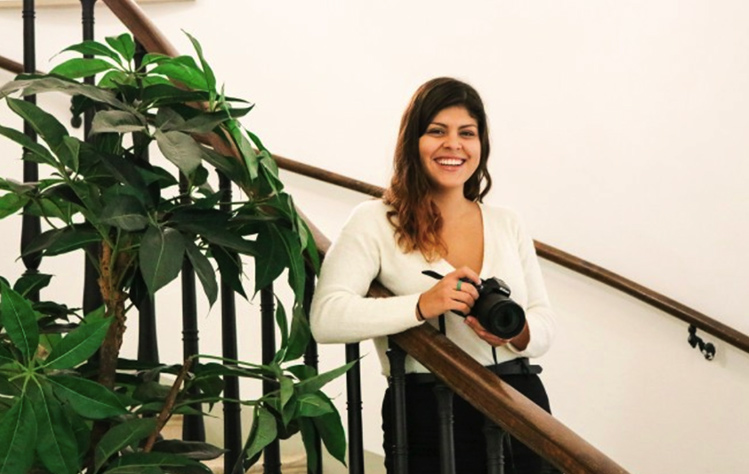 As an American university in the heart of Europe, Webster Vienna Private University offers its students a unique educational experience. Here, students from different backgrounds come together to explore new interests and learn more about their passions.
That was the case for Loren Sandoval, a 24-year-old student from Monterrey, Mexico. Looking for new and exciting learning opportunities, Loren received the coveted Borealis Scholarship and became a student at Webster Vienna. Awarded to those who display outstanding academic merit and financial need, the Borealis Scholarship has motivated Loren throughout her studies—encouraging her to become a dedicated student and community member.
Here's a closer look at Loren Sandoval's accomplishments as a student, double majoring in Psychology and Media Communications.
Developing Theoretical and Practical Skills by Studying Psychology at Webster Vienna
Since discovering Webster Vienna's vibrant international community, Loren dreamed of completing her studies in Europe. She took her enrollment at Webster Vienna Private University as an opportunity to maximize her educational experience and explore subjects that align with her interests.
"While my study program at Webster has provided me with valuable theoretical knowledge to satisfy my initial interests in both fields, I have enjoyed learning from the projects and hands-on experiences outside the classroom, which our professors constantly encourage," Loren says.
By studying Psychology at the Vienna location in Webster's global network, Loren was able to apply her theoretical knowledge in practical assignments— gaining access to the latest technologies as well as the CanBe (Cognitive & Affective Neuroscience and Behavior) Lab, the University's cutting-edge laboratory. These experiences enable student in the program to learn more about the complexity and diversity of human behavior while developing key analytical and communication skills.
Learning Media Communications as a Tool to Positively Impact Society
Through her studies, Loren has discovered a profound connection between media and psychology. "I decided to pursue a double major in Media Communications and Psychology because I believe that media plays a significant impact in shaping our views and opinions, and I'd like to use it as a tool to create a positive impact in society," Loren adds.
The Media department at Webster Vienna allows students to explore a variety of media formats to prepare them for today's media-driven world. While earning her undergraduate degree in Vienna, Loren developed practical media skills that have prompted her to take a more active role on campus—volunteering at different events with the LEADS program as well as coordinating media equipment for projects with the WebMUN (Model United Nations) media team.
This exposure to real-world tasks and projects enhances student experiences, providing opportunities for academic growth and professional development.
Satisfying the Desire to Learn by Studying in Vienna
By choosing to study in Vienna, students can maximize their opportunities in order to better achieve their academic and professional goals. Equipped with a strong psychology and media background, Loren feels ready to pursue new academic aspirations.
"I plan to further my academic and personal interests by pursuing an Erasmus Mundus Master's Degree in Women's and Gender Studies and applying for a research assistant position in the field of media communications," she says.
Students in Webster's Psychology and Media departments develop practical skills that prepare them to launch exciting new careers after graduation. By putting in the time and effort, they can begin paving the path towards their own success.
Would you like to explore your potential and study in Vienna?
Contact Webster Vienna Private University for more information.