Webster Photography Student Finds Inspiration in Athens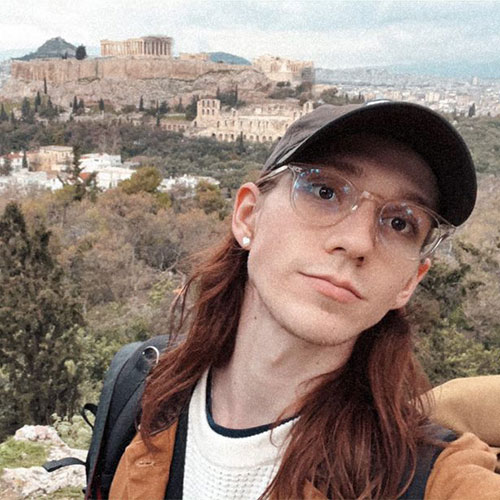 Webster University photography student Braden McMakin decided to study abroad at the Athens campus during the Spring term. His photographs of the historic landmarks around Athens and images during the rare Athenian snowstorm captivated many who viewed them. McMakin shared how he has been furthering his photography while studying abroad at Webster Athens in a Q&A session with Webster Athens staff:
What pushed you to want to study abroad in Athens, Greece and what do you hope to achieve during your time abroad?
I chose to study abroad in Athens because the city offers so many opportunities to view scenic perspectives of the city along with their interesting history. Along with the many fascinating landmarks available to explore, interact with and visit, the essence of their history was a big variable in my decision. I've always appreciated ancient civilizations and monuments on a greater scale when I'm able to learn their history and acknowledge the many years they've been admired by historians and students like myself.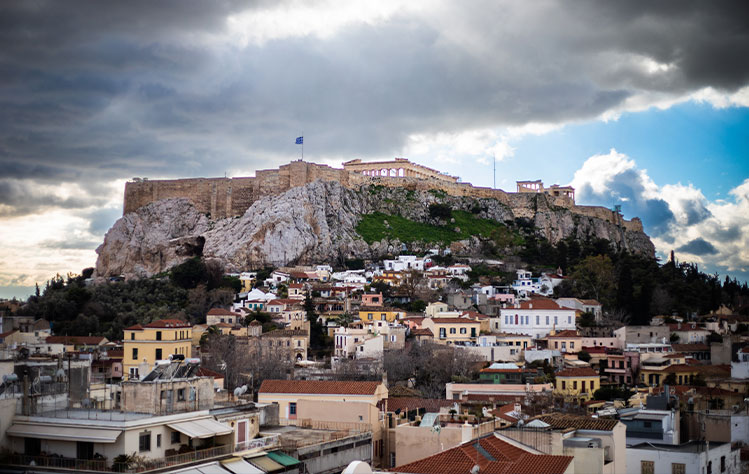 Above: The Acropolis on a cloudy day, taken from the rooftop terrace of Webster University Athens. Photograph by Braden McMakin.
Additionally, philosophy has always been a major interest in my years at college and was an important factor to my decision since Athens has a significantly large amount of history surrounding the art of philosophy and important philosophers that are still honored today. To be in a place where many philosophers developed their teachings and engaged in the exploration of deeper questions and thought is influential to me because I have also strived to dive deeper into my own self-identity and goals, during my time here and once I am back home. Being able to concentrate on myself and my skills/admirations in a city which has a significant connotation and history is a goal that I've set for myself. Likewise, I've been able to practice my passions and photography skills during my stay in Athens.
You are a photography major at the home campus; when did you start developing an interest in photography?
I began my passion for photography in early high school. What started out as taking many photos and making films on my phone for fun helped lead me into my interest of creating digital media in the primary form of photography. During my time in high school, I got involved in journalism and yearbook and was able to document many events and photograph many people to be featured in stories. This helped me identify my favorite aspect of my passion, which is portraiture and performance photography.
What types of photos do you specialize in?
Throughout my time as a photographer, I've come to find portraiture is my favorite genre of photography. Capturing moments that feature people has quickly become my favorite aspect of art because I really enjoy bringing out the best in individuals and being able to represent their personalities, aspirations, and visions through my own work. I've done many types of portraitures in recent years and have explored other genres such as sports photography and landscape photography.
I chose to study abroad in Athens because the city offers so many opportunities to view scenic perspectives of the city along with their interesting history."
Most recently, I've developed a high admiration for performance photography because it represents people in their element and is often accompanied by vibrant colors and unique poses from the moment that I take a photo. I've always admired dance and performances of all kinds and integrating my passion for photography and performance into one has been beneficial to growing my skills and solidifying my interests in the two. I've taken a lot of landscape photography during my time in Athens and have been able to integrate people into a few, which I've appreciated greatly.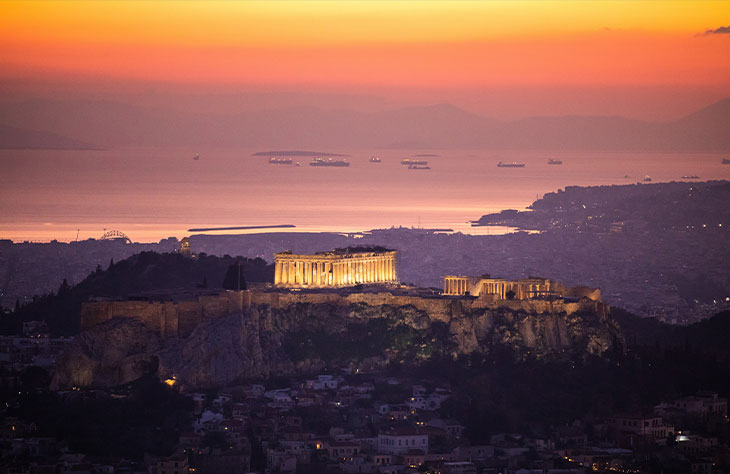 Above: Sunset in Athens. Photograph by Braden McMakin.
Where do you seek inspiration?
I try to find my inspiration through the ideas that many individuals offer when I take their photo and with the environment around them. I am always the most motivated during sunrise and sunsets, as the natural light is more controllable. I like night photography a lot because I can provide my own twists with lighting such as colored LEDs and neon signs. I am mostly inspired when I'm in an area that has a significant number of lights, whether it be natural or provided by buildings and nearby sources of colored light. I try to emphasize a fantasy themed element in all my portraits and when those variables are given to me so easily, it really helps drive my creative abilities.
Some of the landscape photos you took of the snowstorm in Athens were captivating. How difficult was it to take these photos during a blizzard?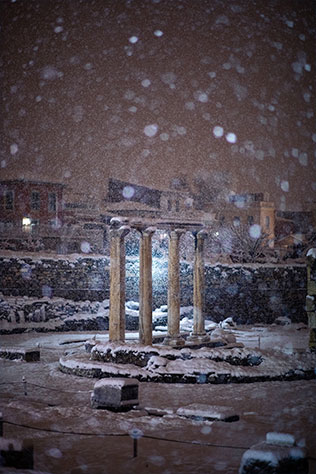 Since the snowstorm occurred during my first week in Athens, it was somewhat of a challenge for me. I was not yet confident in my navigation of the city and with the snowfall being as heavy as it was, it really made the walk difficult as the sidewalks were very slippery, and my glasses were foggy and covered with snow. I had to walk with extreme caution so I wouldn't fall and only had a thin jacket and shoes with me, so after the first 25 minutes I was soaked from the melted snow.
Above: Hadrian's Library during a snowstorm in Athens. Photograph by Braden McMakin
I stayed out for about an hour because I recognized how rare the opportunity was and am grateful I stepped out of my comfort zone so early in the term because I am happy with how some of the photos turned out, capturing the beauty of the snow, the candid faces of people who also ventured outside to experience the snowfall, all the way to the destruction the weather had caused. I decided it was time to go back home once I realized how many power lines and trees were falling around me, which I was able to capture in quite a few images. It was difficult to capture a lot of clear photos due to the amount of snow coming down and how heavy it was, I was more worried about the safety of my camera than over how cold and wet I really was.
Do you have a site where others can view your work?
I have two websites that I frequently update with my work. I've run an independent photography business for almost five years and have specialized in individual and family portraits greatly because of it. My website offers the best portraits that I've taken over the years and even recent performance photography that I've been able to provide to groups of performers who appreciate my work.
I also have a portfolio website that features all of the photos I've taken over the many years I've been active as a photographer. I created a folder on the portfolio site specifically for the pictures I've taken during my time in Greece and update it frequently each time I have new photos to share.
What are your future plans?
As far as my future plans go, I will be continuing my freelance work as I finish my degree and preferably after I graduate. I have many options to expand my network and continue to take photos that I love by getting involved in local performance venues. I have no definite goal in mind, as long as the path I take makes me happy I'll be content.
I want to continue what I've been doing so far and grow myself as a photographer and as a person by providing people with media that they can cherish for years. I've always been extremely flexible with the genres of photography I offer, which I believe this gives me many opportunities to benefit financially from my passion.