Webster University Alumni Chorus Presents Duruflé's 'Requiem' to Benefit Unleashing Potential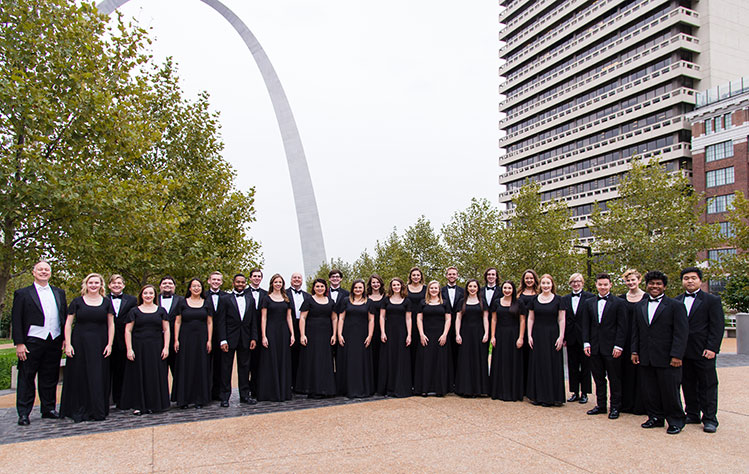 Choral singers reunite to raise money for a longstanding St. Louis nonprofit aimed at increasing economic equity through educational programs.
Webster University Director of Choral Studies Trent Patterson announced a concert benefiting Unleashing Potential, a longstanding nonprofit organization aimed at increasing economic equity through educational programs and opportunities in St. Louis. Presented in partnership with Saint Peter's Episcopal Church, the concert is scheduled for Sunday, July 31 at 3 p.m.
The program will be centered around Maurice Duruflé's 'Requiem,' featuring baritone Jacob Lassetter (Union Avenue Opera, Winter Opera St. Louis), mezzo-soprano Katherine Menke, organist David Sinden and a chorus of alumni and current members of the premier choral ensemble, the Webster University Chamber Singers. The concert will conclude with a commissioned arrangement by 2022 Music Composition alumna Addison Struckman.
With a mission to close the opportunity gap for youth by building on their strengths, Unleashing Potential was a befitting choice.
"I believe Webster University students are passionate and have a heart for bettering our world and serving others, making a positive impact on our global community," Patterson said. "We are excited to be championing the mission of Unleashing Potential and providing an opportunity for members of the community to learn about what the organization is doing."
The benefit is the choral program's first community concert since the onset of COVID-19.
"The Chamber Singers are a perfect example of what good choral singing is," said 2016 vocal performance alumna Emerald Barbour. "That is such a valuable thing to witness, especially as we come out of an extending period of isolation and re-learn how to connect and create with one another. Duruflé's 'Requiem' is a stunning work to both sing and listen to. I have faith that this work, this ensemble, and this concert can move, soothe, and inspire those who attend."
Tickets for the concert are free and more information can be found at events.webster.edu.
EVENT DETAILS
Duruflé's 'Requiem,' Op. 9
In partnership with Saint Peter's Episcopal Church to benefit Unleashing Potential
Webster University Chamber Singers Alumni Chorus
Saint Peter's Episcopal Church, 110 N. Warson Road, St. Louis, 63124
July 31, 2022 at 3 p.m.
Free admission
ABOUT UNLEASHING POTENTIAL
Unleashing Potential's mission is to close the opportunity gap for children and youth by building on their strengths. Since 1913, Unleashing Potential has been creating educational and empowering experiences through early childhood education, after-school programs and enrichment camps. Our vision is a St. Louis community where all children, youth and families live into their full potential. Learn more at upstl.org.
ABOUT WEBSTER UNIVERSITY CHAMBER SINGERS
Webster University Chamber Singers resides on the University's home campus in Webster Groves, Missouri. Comprised mostly of undergraduate and graduate music majors, Chamber Singers performs choral literature from many historical periods, world cultures and styles. Under the direction of chorus conductor Trent A. Patterson, the chorus is acclaimed for its "stylistic diversity and emotional impact."
The chorus has been selected to perform professionally with the Boston Camerata, Josh Groban and The Bach Society of Saint Louis. Samplings of the Chamber Singers' extensive repertoire can be found on the Webster University Choral Ensembles YouTube Channel and on their compact disc "Beginnings."
ABOUT WEBSTER UNIVERSITY
With its home campus in St. Louis, Missouri, USA, Webster University comprises an action-oriented global network of faculty, staff, students and alumni who forge powerful bonds with each other and with their communities around the globe. Founded in 1915, Webster is an independent nonprofit university with students studying at campus locations in North America, Europe, Asia and Africa and in a robust learning environment online. The University is committed to ensuring high-quality learning experiences that transform students for global citizenship and individual excellence.