Mark Camphouse Inspires at CMS Young Composers Master Class, Workshop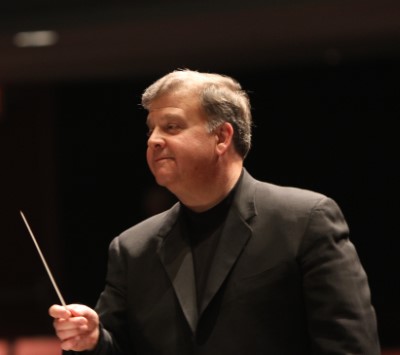 George Mason University's Mark Camphouse joined the winning composers of the 18th Annual Young Composers Competition for the dress rehearsal and recording of their winning works by members of Chamber Project St Louis, which will premiere on the CMS YouTube channel in the coming weeks.
Camphouse further presented a two-hour masterclass with the four winners, offering his insights and critical commentary on their music and sharing his experience and expertise as a composer and educator - including fascinating stories about meeting composers John Williams, Dmitri Shostakovich, and Aaron Copland. As three of the four winners are still in high school, Camphouse made a point to discuss navigating the trepidatious straits of college life, applications and admissions, and making the most of the educational opportunities.
This year's winners were William Masters (Elk Grove, California) for Catawampus Caccia and Frazar Henry (Bonita Springs, Florida) for Lamentation #4 in Level I, and Kyle Soliz (Algonquin, Illinois) for In Flux and Zixuan Chen (San Diego) for Dispersion in Level II.
The Community Music School is also extraordinarily grateful for Webster University's Director of Composition Studies Kim Portnoy, who continues to offer his outstanding workshop titled "Making a Botch of It: Inspiration, Imitation, and the Creative Process."