Community Music School Offers Summer Programs for Adults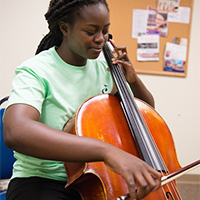 This summer, the Community Music School is excited to offer two new programs targeted to adult learners. Both sessions are scheduled July 5-99 and will meet from 5 - 8 p.m. The deadline to register is May 15th. Click here to register.
Adult String Orchestra: Ready to dust off those group-playing skills? Join us for this not-quite-beginner string orchestra for adult students. Some experience playing in an orchestra or ensemble (even if it was decades ago) is helpful. Participate in string orchestra rehearsals with CMS conductor and sectional coaches. An informal performance for friends and family will be held on the last day of the session. Approximate playing level at Suzuki books 2–4.
Beginner Strings Adult Group Class: Interested in learning to play violin, viola, or cello in a group setting? Come join us for a week of learning a string instrument from scratch alongside other adults in a friendly group environment. No previous musical experience required. At the end of the session students will join the Adult String Orchestra for an informal performance for friends and family. Students are expected to provide their own instruments and a copy of Essential Elements Book 1 for their instrument.
(These sessions are not offered for Webster University credit.)