Webster Receives $30,000 to Close Graduation Rate Gap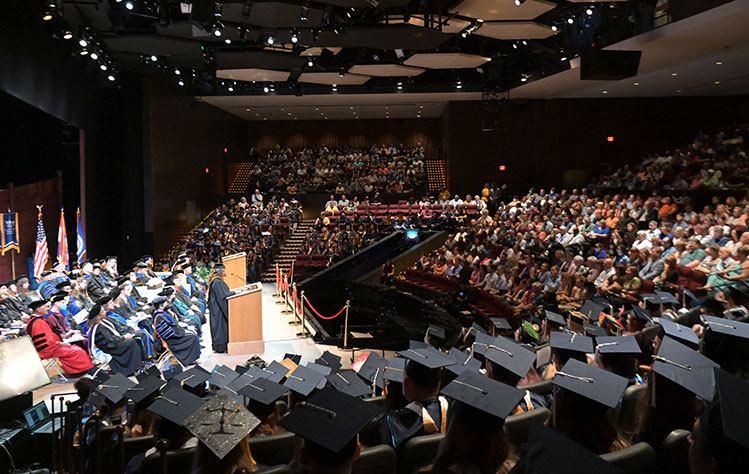 Webster University received a $30,000 grant to explore ways to close the post-secondary completion gap between white students and students who identify either as a person of color or who come from a low-income household.
The grant was awarded by the Missouri College and Career Attainment Network (MOCAN) and Complete College America (CCA), and funded by the Missouri Scholarship and Loan Foundation. Webster will receive $10,000 per year for the next three years to invest in ways to improve graduation rates.
"This grant will enable us to integrate our academic advising with early and ongoing career advising to ensure that students understand how their academic efforts will support their post graduation goals," said George Herbert Walker School of Business & Technology Dean Simone Cummings. "We anticipate that these efforts will result in increased student retention and graduation rates, which not only benefit students, but employers and our general community, as well."
Webster will use the funds to better incorporate career advising into admissions, orientation, and first-year and beyond activities. More specifically, efforts will include helping students to better identify the types of jobs and majors best suited to their interests, expanding training for faculty members who serve as student advisors, and developing ways to incorporate both academic and career advising consistently throughout a student's time at Webster.
"This grant will benefit all students but will provide the greatest benefit to Black, Indigenous, Latinx and other people of color (BILPOC)," said Associate Vice President of Diversity, Equity and Inclusion Vincent C. Flewellen. "Nationally, BILPOC students tend to graduate at rates that are 20% to 50% lower than white students. And when you look at income, the numbers become more dire, as Pell Grant recipients are significantly more likely to drop out of college than earn a degree."
In the United States, approximately 64% of all undergraduates will earn a bachelor's degree. For Indigenous students, the rate is about 55%; for Hispanic students, the rate is about 53%; for Black students, the rate is 46%; and for Pell Grant recipients, the rate is about 25%.