Department of Dance Presents "Inhale" Oct. 6-8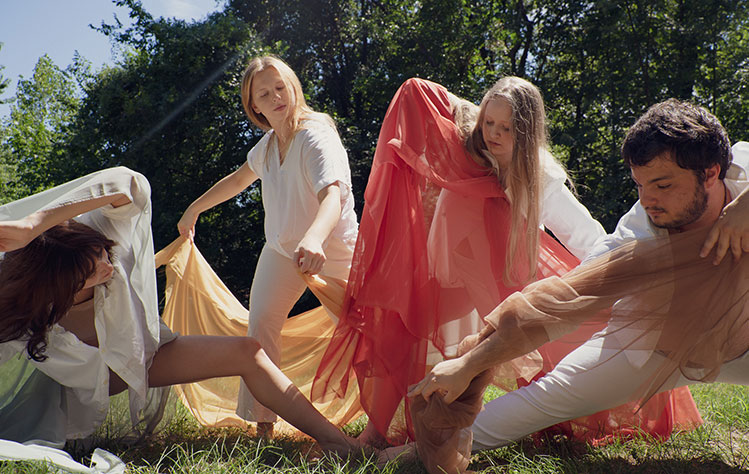 Webster University's Leigh Gerdine College of Fine Arts Department of Dance presents "Inhale." The performance showcases the original choreography of senior BFA Dance candidates Sam Schenkein, Evie Sondag, Halley Stein and BA Dance candidate Ramona Orion.
"Inhale" runs at 7:30 p.m. on Oct. 6 and 7 and at 2 p.m. on Oct. 8. The performances will be on Stage III in the the lower level of Webster Hall, 470 E. Lockwood Ave. The concert is ticketed at $15 for adults, $7 for seniors, Webster alumni, and non-Webster students, $2 for children 12 and under, and free for Webster students, faculty and staff. Seating is limited. Reservations are highly recommended.
Schenkein explained that his work "is focused primarily on finding comfort and joy through movement, to relax through the process. My goal is to create an environment for both myself
and my dancers to experiment and screw up as much as possible, and to find beauty in the mistakes."
Schenkein, a native of Denver, began his dance training in 2003 with Irena Brecher and Misha Gabriel. He danced with a variety of studios and companies in and around the Denver area, including Cleo Parker Robinson Dance Ensemble and the Colorado Ballet. This past summer, he also studied dance in Accra, Ghana.
"In my work, I am focusing on the concepts of balance, community and celebration of one's self," said Sondag. "I am interested in exploring the use of rhythm as a way for people to feel connected with one another. The idea of balance within nature and balance within ourselves is also a topic I am further researching. Lastly, the idea of finding joy within ourselves is a large part of my work in this concert."
Sondag is originally from Norman, Oklahoma and began her dance training at age 9 at Modern Dance Arts. This past summer, she had the unique opportunity to study dance in Accra, Ghana. Sondag is also excited to announce that this year she will be dancing with the Modern American Dance Company as a member of its second company.
"My work aims to represent the collaboration of choreographer and dancer, and the unique traits and qualities of both parties," said Stein. "Though the dance world is getting better about representation of different minority groups, dance still doesn't always embrace those differences to its full potential. My goal is to use the stage as a platform for the dancers and myself to be able to show our true selves."
Stein, a St. Louis native, began her dance training at the age of 5 at Center of Creative Arts (COCA) and Grand Center Arts Academy. Outside her training at Webster, she has been shadowing Kirven Douthit-Boyd at COCA. While there, she has been fortunate to work with Mason Cummings, Elizabeth Corbit, Tommie Waheed Evans and Kevin Jenkins.
Orion said that her work "'citrus chewing sour (!)' is a quiet victory and celebration of solidarity with oneself. It has been influenced and informed by past and current selves, loves, friendships and an intention to be genuine."
Orion began her training under the direction of Barbara Craig and Jennifer Medina at Skystone Conservatory of the Arts. Over this past summer, Orion had the opportunity to collaborate with Craig and Medina's dear friend L. Mattson on a duet exploring the complexities of queerness for Jacob Henss' summer residency, Space Station. Recently, Orion has been intrigued by how trauma is held in the body, how it manifests, and how it can be processed through movement.
For further information, call the Fine Arts Hotline at 314-968-7128. Please visit lgcfa.brownpapertickets.com to purchase tickets. For more information on the Department of Dance: call 314-246-7747, email dance@webster.edu, or visit the department website at www.webster.edu/dance.