New Course Launched to Help International Students Transition to Studying in the United States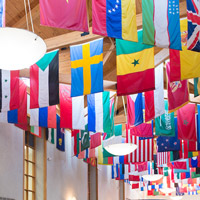 In the next week, several Webster University locations will host orientation sessions for international students. During these sessions, the students will meet University leadership, learn about academic advising and other resources available to them, have lunch with faculty members and tour parts of the campus.
But the orientation experience won't end after those events.
This year, a new program is being launched to help international students transition from their home countries to the U.S. environment. Titled "Topics in Culture: Academic Expectations in the U.S.," the eight-week-long, one-credit course will walk students through various aspects of the culture in the U.S., as well as the many resources available to them.
The first cohort of this new program will focus on students pursuing graduate degrees in the George Herbert Walker School of Business & Technology.
"This is a unique program that will contribute to the success of our international students, one that we hope we will be able to expand to all international students over time," said Walker School of Business & Technology Dean Simone Cummings. "I especially want to thank Carolyn Trachtova along with her colleagues in the English as a Second Language Program for all the work that they did building this program."
While in the program, the students will explore a variety of topics, from how culture plays a role in individuals' lives to how it impacts the academic experience. Students also will compare academia in the U.S. with their academic experience in their home countries and consider how culture influences spoken and nonverbal communication.
They will also explore the types of assignments typical to the Walker school and academic standards related to research, citation, and writing. The program will end with the students creating personal academic success plan based on their degree studies and the resources they gather throughout the eight-week term.
The hybrid course is free for the students. They will be automatically enrolled for the course based on their enrollment in the Walker school. The program's development was made possible with support from Webster's international recruitment partner, Global University Systems (Inuni Global).