Jenifer Lewis Speaks at Webster University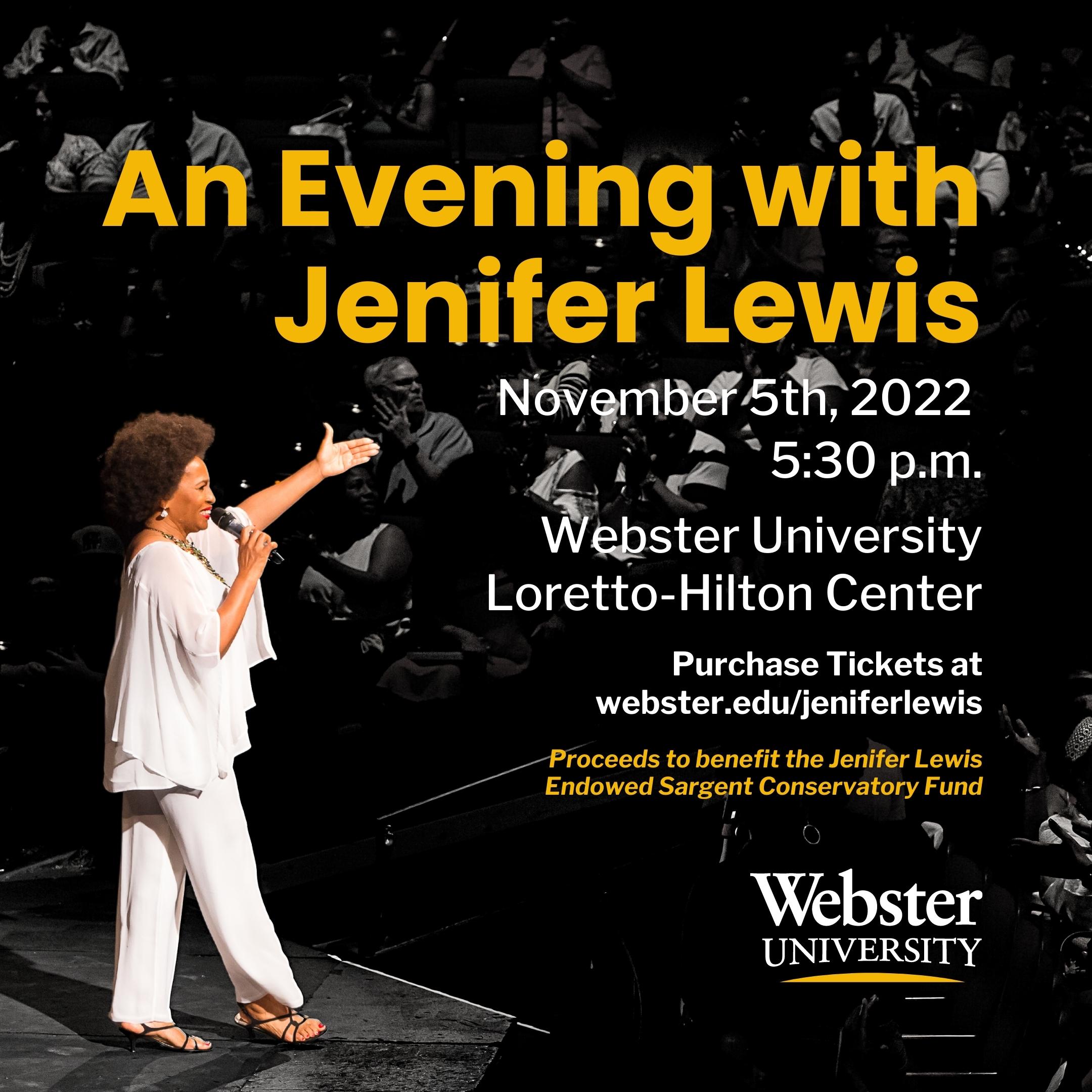 Webster University is delighted to host an evening with world-renowned actress Jenifer Lewis.
Growing up in Kinloch, Missouri, she earned her BFA from Webster's Sargent Conservatory in 1979. She has forged a powerful bond with the University, the Conservatory, and Chancellor Elizabeth (Beth) J. Stroble. In 2015, Lewis received an Honorary Doctorate of Humane Letters and delivered an inspired Commencement address. At that time, she established the endowed Sargent Conservatory Fund to enable students who look like her to have assistance to pursue their dreams, just as Webster did for her.
WHAT: An Evening with Jenifer Lewis. Celebrate her new book, "Walking in my Joy." Signed books included with $35 ticket while supplies last. All proceeds to benefit the Jenifer Lewis Endowed Sargent Conservatory Fund.
WHEN: Saturday, Nov. 5, 5:30–6:30 p.m.
WHERE: Webster University – Loretto-Hilton Center for the Performing Arts, 130 Edgar Road, St. Louis, Missouri, 63119
Lewis has earned the title of "national treasure and a force to be reckoned with." She has appeared in over 400 episodic television shows, 68 movies, 40 animations, four Broadway shows and over 200 concerts. Earlier this year, she received her star on the Hollywood Walk of Fame and was toasted at a dinner at the White House.
"Walking in My Joy" is a collection of eclectic stories that takes readers around the globe, demonstrating how Lewis literally "walks in her joy" by seeking pleasure in everyday encounters.
Lewis' relationship with Webster University and its Sargent Conservatory of Theatre Arts runs long and deep. Such connections are born from the heart, and Lewis' is immense. The Sargent Conservatory is known worldwide for its rigorous training, accomplished graduates and imprint on the performing arts.
Event information and ticket information: webster.edu/jeniferlewis