Webster University Observes Juneteenth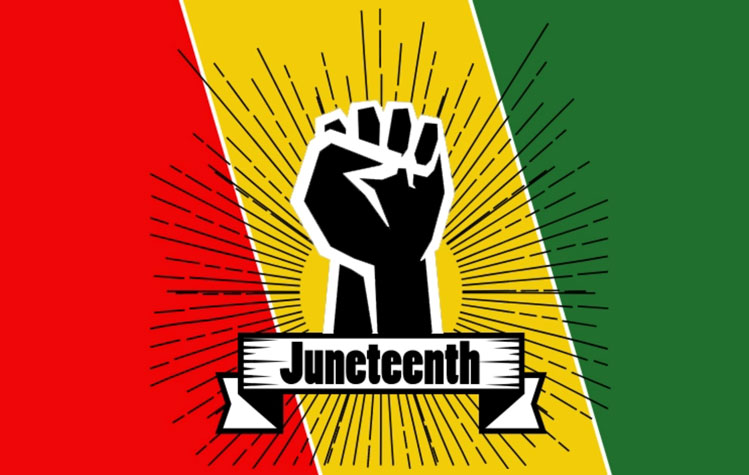 In observance of the Juneteenth holiday, Webster University will close the St. Louis campuses on Monday, June 20. Juneteenth commemorates the abolition of slavery in the United States and is one of the country's oldest and largest celebrations.
The University is one of the proud sponsors of the 2022 Missouri Historical Society's Juneteenth programs, which are all free and will take place at the Missouri History Museum unless otherwise noted.
JUNETEENTH KEYNOTE LECTURE AND GOSPEL MUSIC PERFORMANCE: HONORING REVEREND DR. JOHN N. DOGGETT JR. | THURSDAY, JUNE 16 | 5:30 P.M. — 8 P.M. | IN-PERSON PROGRAM
Join Bill Doggett as he presents a multimedia keynote address about the life of his father, Reverend Dr. John N. Doggett Jr., a beloved and critical leader, who worked tirelessly for civil rights, human rights, and social justice, both locally and nationally. Rev. Doggett's association with the civil rights movement began in the 1950s in Los Angeles, where he worked alongside Dr. Martin Luther King Jr. and served as the treasurer of the Western Christian Leadership Conference. In the 1960s, Rev. Doggett made a home in St. Louis, where he led efforts to improve police and Black community relations, state and local government, and healthcare for Black St. Louisans. Rev. Doggett served as the president of the St. Louis City NAACP, the first African American superintendent of the Missouri Methodist Conference, and a long-time board member of the Missouri Historical Society.
The Community Gospel Choir of St. Louis will perform live gospel music at the opening and closing of this keynote lecture. Directed by Suzanne Palmer, the group was formed in 2007. Bringing together singers from all backgrounds, the Community Gospel Choir seeks to build bridges that restore unity to community. Through the rich tradition of African American spirituals and the energy of gospel music, the singers deliver the messages of hope and joy found in the Good News.
SCHEDULE
5–8 p.m. | Explore the Museum's exhibits and take a self-guided tour with a scavenger hunt of civil-rights-related stops.
5–7 p.m. | Enjoy food and drinks available for purchase from Orlando's.
5:30–6:30 p.m. | Visit the Historians' Corner to learn more about St. Louis's civil rights history and hear about MHS's African American History Initiative, as well as the virtual exhibit #1 in Civil Rights.
6:30–8 p.m. | Head to the Lee Auditorium for the keynote lecture and gospel music performance.
ASL interpretation is available for programs with two weeks advanced notice. Please email access@mohistory.org to request ASL interpretation or with other accessibility questions.
For more information, visit the museum's events page.
STORYTELLING IN THE MUSEUM: JUNETEENTH | FRIDAY, JUNE 17 | 10:30—11 A.M. | IN-PERSON PROGRAM
To commemorate the holiday, let's read books about past and present freedom celebrations.
Storytelling programs at the Missouri History Museum engage our youngest visitors and their families with songs, movement, traditional and contemporary storybooks and local history. Please feel free to drop into the craft workshop as well any time from 11 a.m. to 1 p.m.
JUNETEENTH COMMUNITY RIDE: SATURDAY, JUNE 18 | CHECK-IN: 9 A.M. | NOTE: THE RIDE BEGINS AT TANDY RECREATION CENTER, 4206 KENNERLY AVE., ST. LOUIS, MO 63113
This Juneteenth, celebrate. St. Louis' Black artists, musicians, and history with a bike ride. Join Trailnet, 4 The Ville, and the Missouri Historical Society for a group ride with historians and storytellers sharing the city's history. Stay after the ride for a block party with live music and food trucks. This guided group bike ride takes place on city streets at a slow place for people of all comfort levels.
JUST BREATHE STL | WEDNESDAYS FROM JUNE 22 TO JULY 13 | 6:00 P.M. — 8:00 P.M.| IN-PERSON PROGRAM
The Collective STL presents an intergenerational summer wellness experience for the entire family. Participate in a variety of activities including yoga, journaling, mindful art, music, live performances and healthy food and drink.