News Around Webster: Andrea Miller, Animation Workshop and Tashkent Creativity Week
Professor Miller's Essay Published
Women's and Gender Studies Program Adjunct Professor Andrea Miller, Ph.D., published an original essay entitled "Disrupting Dichotomies: Non-Binary Sexual Identities" in the fourth edition of the book "Introducing the New Sexuality Studies" (Routledge, 2022), edited by Nancy L. Fischer, and Laurel Westerbrook, with Steve Seidman.
School of Communications Students and Staff Attend Animation Workshop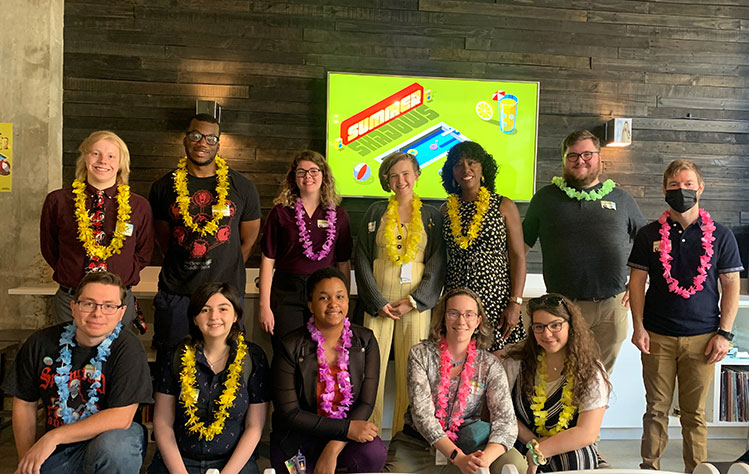 Staff members from the Webster University School of Communications Internship Program, Career Planning & Development Center, students and recent alumni attended the first Antidote Studio Summer Shadows event on June 16. The event included workshops for aspiring creatives in the motion design and animation industry. This festive "summer school" experience delivered on its advertised promise to offer "hot tips, talks, and one-on-one feedback - seriously, all the stuff we wish we knew earlier!" The creative team encouraged the participants to "be a sponge" and soak up all the knowledge.
In addition to a panel discussion, project walkthroughs and engaging discussion from professionals throughout the organization - including Antidote co-founders Michael Francis and Ryan Bury - Webster University School of Communications alum Tim Craft, '06, shared an overview of his rise to creative director and explained how Webster laid the strong foundation for his successful career launch in the media industry.
To encourage additional skill-based learning, two School of Communications alums, Spencer Marks, '21, and Kayla Oldow, '22, were the winners of summer-themed Antidote swag and a subscription for free classes from the popular online learning community, Skillshare.
"Antidote Studios' Summer Shadows event provided invaluable insight into their industry. Their panel discussions, presentations and project walkthroughs made me even more excited to learn and grow as an artist," said animation student Ashlynn Prince. "My biggest takeaway was to never stop being a student, and those that I connected with at the event gave me amazing resources and advice on how to sharpen my skills. I am very grateful I had the opportunity to attend Summer Shadows and will be looking forward to similar events in the future!"
"I absolutely loved Antidote Studio's version of summer school!" said Trezette Dixon, School of Communications internship director. "This successful event was the epitome of career development, student engagement, and valuable university partnerships. Students were given a glimpse of their future while being inspired by professionals that shared their personal career journeys and genuine passion for their craft.
"They had so much knowledge to share and genuine enthusiasm about the students' future careers as creatives. Partnering with our alumnus Tim Craft for internships has blossomed into his participating in mentoring events on campus and including our University in networking and knowledge-building events like Summer Shadows. I was so excited to attend the event with my colleague, John Holste, assistant director, Career Planning & Development and liaison to the School of Communications, and so many eager students and recent alumni. We were able to support our students by enhancing our own knowledge about this growing St. Louis-based organization and solidify partnerships for future collaborations."
Tashkent Campus Staff Reflects on Creativity Week 2022: Togetherness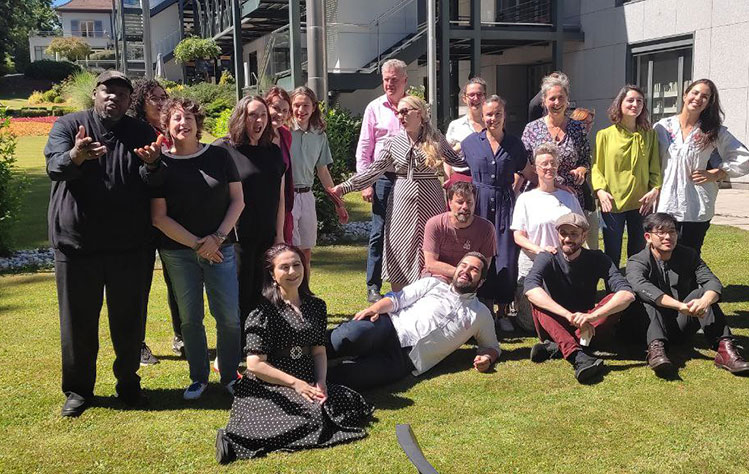 Rokhatoy Boltaeva, the MA in Education and Innovation (EDIN) program coordinator at Webster University Tashkent, reflected on her participation in Creativity Week 2022: Togetherness. Boltaeva shared a few insights and impressions that pertained to Webster's input into the education system of Uzbekistan.
"I never imagined that creativity can be researched in different disciplines and fields, and interesting scientific papers can be published," she said. "Creativity can be perceived differently in various domains from different perspectives and if a researcher studies the field deeply, she or he can come up with another perspective having compared all the other previous researchers' work."
This was the first time a Tashkent campus representative was part of the annual conference. For Tashkent's MA EDIN coordinator, this was a unique chance to connect with those who shared her research interests.
"Meeting creativity professionals around the globe and expanding my network in the new field, discussions on the current research in the area boosted my willingness to do the further research in implementing creativity into the field of education," Boltaeva said.
Boltaeva also co-presented the research she conducted with Basiyr Rodney, chair of the Department of Teacher Education, about the innovations being made to education in Uzbekistan thanks to the impact of the MA EDIN program. Speaking about the program's first students in Tashkent, she explained that some people enrolled after participating in design sprints at government ministries and agencies. Today, they are leading change in the public education system of Uzbekistan.
"They are already implementing the knowledge taken in the program along with the other foreign countries' collaborations, started to renew the content and teaching methodology in public school textbooks, adding 21st century skills in each subject," Boltaeva said.
Tashkent is the only international campus to offer the MA in Education and Innovation. The program is delivered on campus and in hybrid modalities to accommodate more learners. Boltaeva has coordinated the program from its start in Uzbekistan, working closely with Professor Rodney to gain a deep understanding of the needs of Uzbekistan's education system and how EDIN can make an impact. Sharing her plans, she says: "For the next year event, the plan is to conduct the qualitative and quantitative research on the works of the EDIN students and submit a paper."
Organized by the Webster Center for Creativity and Innovation (WCCI) since 2018, Creativity Week is centered on sharing best practices and current research relevant to creativity and innovation scientific studies.