Global Teaching Fellowship Offers Opportunity for Webster Vienna Professor to Teach, Research in West Africa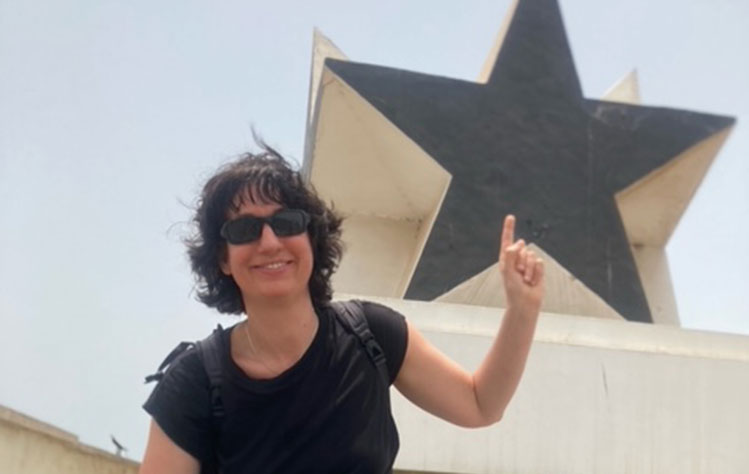 Eva Zedlacher, assistant professor of management at Webster Vienna Private University, was recently able to experience her usual job responsibilities in a whole new way – and in a whole new place – this spring. Thanks to the Leif J. Sverdrup Global Teaching Fellowship, Zedlacher spent a fully immersive term at Webster University Ghana in Accra.
The fellowship opportunity is just one of many programs Webster University offers to encourage collaboration and connection between faculty at its international campuses. While in Ghana, Zedlacher taught Principles of Organizational Behavior at the undergraduate and graduate levels.
"This was a great opportunity and chance for me to learn and interact with students, staff and faculty from different countries such as Nigeria, the Central African Republic and Burkina Faso," Zedlacher said. "I not only taught students about topics such as job satisfaction, compensation challenges and team leadership, but I myself learned a lot about organizational behavior and work attitudes in different African countries as well."
In addition to teaching, Zedlacher was able to further the global reach of her research. She collected data on the effectiveness of a training film called "Schaunichtweg Training," a project supported by Webster Vienna and the Chamber of Labor of Lower Austria that aims to understand, bring awareness to and lessen workplace bullying.
"As the term 'bullying' is still associated with school rather than the workplace in many cultures, it was fascinating to hear students' opinions and experiences on how companies in their countries deal with bullying, abuse of power and other forms of workplace misconduct," Zedlacher said.
Webster Ghana also organized several large events and lectures on the African diaspora, Ghanaian history and independence during Zedlacher's stay. As a regional representative of Europe and Africa for the Academy of Management's conflict management team, she was able to chair an event on workplace bullying perceptions in West Africa.
The experience wasn't all work oriented, however.
The Webster Ghana campus location, in one of Accra's most popular neighborhoods, offered modern facilities to enjoy, a vibrant urban and lively ex-pat scene and great proximity to further exploration off the beaten path.
"I really enjoyed the warm welcome by director Christa Sanders and all Webster Ghana members as well as the spacious and beautiful faculty apartment directly on the campus." Zedlacher said. "My trip to the Volta region in eastern Ghana with its lush vegetation and excellent hiking opportunities marked one of the highlights of my stay."
Zedlacher was quick to point out to her Vienna students back home that they – along with all Webster University students across continents – can study in Ghana.
"I recommend taking advantage of all the great opportunities for intercultural exchange that Webster University offers," she said.