Gorloks Look to Capture 100th SLIAC Championship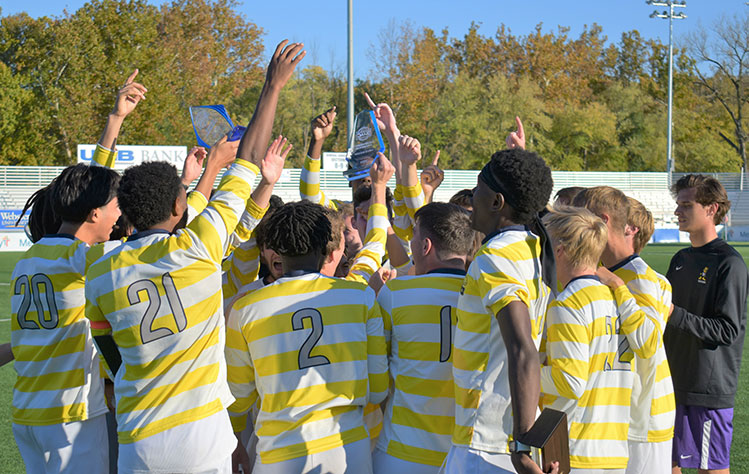 ST. LOUIS, Mo. –Webster University's Department of Athletics is on the precipice of a significant achievement. It is just one win away from its 100th SLIAC Championship.
That goal is expected to be achieved this semester.
"Reaching this historical milestone is an outstanding accomplishment due to the hard work of current and past coaches, support staff, student-athletes, and the support from upper administration, parents and alumni," said Director of Athletics, Scott Kilgallon. "Equally impressive and satisfying is seeing our student-athletes graduate and achieve success in their chosen careers after earning a Webster University degree."
Championships in team sports are awarded in league play while individual sport championships are awarded in tournament play. For the Gorloks, team sports include men's and women's basketball, men's and women's soccer, baseball, softball, and volleyball. Individual sports include men's and women's cross country, men's and women's indoor and outdoor track and field, men's and women's tennis, and golf.
The Webster baseball team has the most championships out of all of Webster's teams, as they have won the league a conference best 16 times including the last 15 seasons. The women's soccer team is second on the list as they have won a conference high 15 championships while golf is third best with 11 championships. Men's basketball, men's soccer, softball, and volleyball all have 10 titles while women's tennis and women's cross country each have five. Lastly, women's basketball has won four league titles while women's track and field has won three.
Among the SLIAC membership, The Gorloks have the most league championships in baseball, men's basketball, men's golf, men's soccer, and women's soccer. Greenville (Ill.) University is second all-time in SLIAC Championships as they have won 78 championships across all sports.
Aside from their athletic prowess, Webster athletes also dominate in the classroom. Webster athletes routinely earn academic all-conference honors in the SLIAC, a designation that recognizes athletes that have average cumulative GPA's of 3.5 or higher.
"Our student athletes are amazing and represent the talent and diversity of the Webster community, both on the field and court and in the classroom," said Webster University Chancellor Elizabeth (Beth) J. Stroble. "The commitment and passion these students show for the sports that they love reflects the same passion that our students show every day, both in and out of the classroom. I look forward to celebrating our 100th championship very soon."
The Webster University Department of Athletics was established in 1984 and is a charter member of the St. Louis Intercollegiate Athletic Conference (SLIAC). The SLIAC was formally chartered in September of 1989 at Maryville (Mo.) University in St. Louis and the first championships were conducted in the 1990-91 school year. Besides Webster and Maryville, other founding members of the conference include are Blackburn (Ill.) College, Fontbonne (Mo.) University, Parks (Ill.) College, and Principia (Ill.) College. Currently the conference also includes Spalding (Ky.) University, Eureka (Ill.) College, Westminster (Mo.) College, and Greenville (Ill.) University. The conference recently welcomed in Lyon (Ark.) College and Mississippi University for Women and they will begin competing in the SLIAC next season.