Webster School of Communications Hosts 2023 Media Academy Student Showcase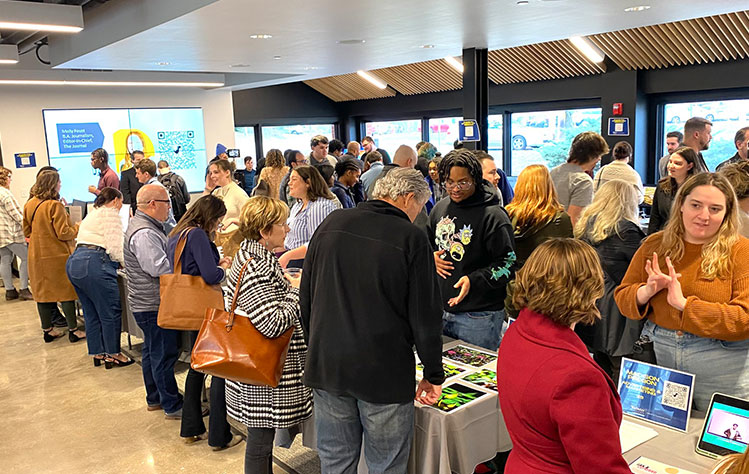 Over 100 industry professionals, including internship partners, communication/media professionals, alumni, and Webster University faculty and staff attended to provide career related feedback for Webster students during Webster University's School of Communications (SOC) annual Media Academy Student Showcase, held on Thursday, March 9 in the Boylan West Atrium of Webster University's newly renovated Sverdrup Complex.
At the Student Showcase, current students displayed their best work while networking with alumni and industry professionals for potential employment. To participate, students must be nominated by an SOC faculty or staff member. This year, 25 students, mostly seniors, exhibited their work at the event.
Molly Foust, a journalism student and editor-in-chief of the Webster Journal, was grateful to have been selected as a panelist for the SOC Student Showcase.
"The Student Showcase gave me an opportunity to polish my professional skills and put them to good use by connecting with employers and alumni who continually inspire me to move forward in my career," Foust said.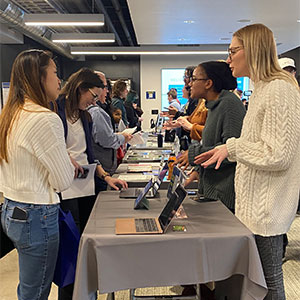 Additionally, four SOC student organizations were represented at the event. Wyatt Kurtz, president of Webster student organization SIGGRAPH, shared how the Student Showcase benefits not only aspiring student professionals, but on-campus clubs.
"More than anything else, Webster SIGGRAPH's mission is to foster community between creators of media, so that we can share our ideas and build our skills together," Kurtz explained. "Events like the Student Showcase allow us to extend that community to professionals working in the field, so we're glad we got the opportunity to share who we are and what we do."
Webster students selected as presenters came from a variety of majors and backgrounds, including photography, scriptwriting, animation, audio engineering, film, and more. Event attendees were invited to give students verbal feedback, and formal feedback via a mobile survey based on the NACE Career Readiness Competencies.
Industry professionals attending the event enjoyed seeing the wide array of creative work from the SOC panelists.
"Thank you for having us. It was inspiring to see so many talented creators from Webster University! I was impressed with the content displayed, and with the creative students I engaged with," said Lin Woods, owner and creative director/content creator at Lin Woods Inspired Media, LLC.
Trezette Dixon, director of the School of Communication Internship Program and Student Showcase organizer, was thrilled with the overall success of the event. "The exceptional students and student organizations presenting their creative and innovative work produced with the nurturing support of faculty, staff, and administrators of the School of Communications were truly inspiring," Dixon said. "Over 100 invited guests, including alumni creatives and industry professionals, revealed the encouraging community that exists when you create a culture of career development. I'm thankful for all those who made the event a success and so proud of the amazing students, our budding creatives, that will change the media industry!"
Webster's SOC Student Showcase will return in March 2024.