Chibo Onyeji Awarded 2023 Bronwyn K. Mitterecker Memorial Alumni Award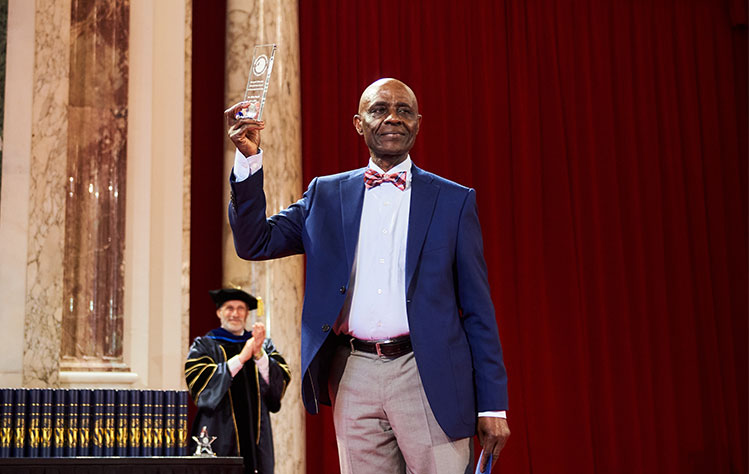 Webster Vienna Private University (WVPU) alumnus Chibo Onyeji, Ph.D., was awarded the Bronwyn K. Mitterecker Memorial Alumni Award at the 2023 commencement ceremony.
Onyeji was a member of Webster Vienna's inaugural class, graduating in 1982 with a master's degree in economics and finance. The award was presented on May 13 in front of nearly 100 new graduates and more than 500 guests at the historic Hofburg Imperial Palace.
"I am honored to be the 2023 Bronwyn K. Mitterecker Alumni Awardee. As a member of the first graduating class of Webster Vienna, it is an incredibly humbling experience to be back on the commencement stage more than 40 years and a full career later. I appreciate my alma mater Webster Vienna for recognizing my efforts," Onyeji said.
The Bronwyn K. Mitterecker Alumni Award honors Webster Vienna alumni who have made exceptional contributions to the community through their field of voluntary service or profession. The award was established in memory of Bronwyn Mitterecker, who dedicated over a decade of service to Webster Vienna as director of admissions and alumni coordinator. The award was founded by Mitterecker's husband after her passing in 2005.
Nominated by fellow alumni, Onyeji has decades of experience in industrial and economic development work that centers on promoting growth, wealth creation, and employment in African countries. Onyeji provides his services through specialized agencies of the United Nations (including the United Nations Industrial Development Organization, International Fund for Agricultural Development, and the Food and Agricultural Organization) as well as Development Finance Institutions such as the African Development Bank Group and The Opec Fund for International Development.
For eleven years, Onyeji was a visiting faculty at the University of Vienna where he taught causes in Political economy of hunger and economics of migration. He was a research associate at the Center for Advanced Decision Support for Water and Environmental Systems (CADSWES), the University of Colorado at Boulder, USA, from where he joined the International Institute for Applied Systems Analysis (IIASA), Laxenburg, Austria, as a research scholar, to further his work on climate change impacts on economic development in Africa. He holds a Ph.D. from Texas A&M University.
Additionally, Onyeji has been elected to various leadership positions – one of the most notable being his involvement with the European Network Against Racism (ENAR). He served as the First Vice President of ENAR from 2007-2010, then as President of ENAR from 2010-2013. Onyeji's leadership in these positions contributed to the European Parliament's adoption of an EU Framework for Roma Inclusion, and EU Resolution on the Fundamental Rights of People of African Descent in Europe. Onyeji also served as deputy chair of Radio Afrika TV in Vienna, where he actively participated in two projects aimed at combating discrimination and fostering diversity and inclusiveness.
If you are a graduate of Webster Vienna Private University, we invite you to join our online community at alumni.webster.ac.at.