Webster Vienna Commencement Celebrates Class of 2023 at Hofburg Palace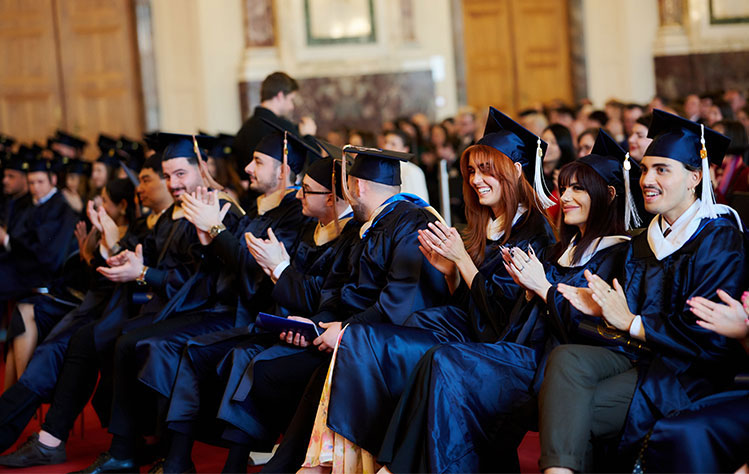 On May 13, Webster Vienna Private University (WVPU) conferred degrees upon nearly 100 graduates during a festive commencement ceremony held at the historic Hofburg Imperial Palace.
Faculty, staff, family members, and friends gathered with a celebratory air to honor the accomplishments of the 2023 graduating class. These graduates, representing more than 30 countries, are now the newest members of the Webster University Alumni Association.
WVPU Rector Johannes Pollak opened the ceremony with an inspirational welcome address. Ralph Schöllhammer, senior lecturer in political science and economics, served as this year's master of ceremony.
The 2023 commencement speaker was Andreas Treichl, chair of the ERSTE Foundation. Treichl's impressive career began as a corporate banking officer with Chase Manhattan Bank in New York, eventually leading him to become the CEO of Erste, a Vienna Savings bank. Over a span of 10 years, he successfully transformed Erste into the largest retail bank in Central Europe, significantly expanding its client base from 600,000 to over 16 million across the region.
Treichl utilizes his extensive experience with the foundation, which acts as a non-governmental organization, to allocate the dividends it receives toward social and cultural projects within its region. During his commencement address, he emphasized the importance for graduates to discern the purpose behind their future work and encouraged them to find work that they truly love.
Melanie Smith (M.B.A. '13) vice president of the Webster Vienna Alumni Chapter, presented the Alumni Association Awards. This year's recipients are Mathilde Tanholdt Samson (Student Leadership Award) for her outstanding contributions outside of the classroom and Chibo Onyeji, M.A. '82 (Bronwyn K. Mitterecker Memorial Alumni Award). Mathilde Tanholdt Samson received the Student Leadership Award for her contributions outside of the classroom, and Chibo Onyeji, (M.A. '82) received the Bronwyn K. Mitterecker Memorial Alumni Award.
Onyeji, a member of Webster Vienna's inaugural class, was recognized for his groundbreaking work in industrial development at the United Nations Industrial Development Organization (UNIDO) focused on driving growth, wealth creation, and employment in Africa's developing nations. He is also known for his involvement in fundamental rights advocacy and combatting discrimination as a leader within organizations like European Network Against Racism and Radio Afrika TV.
The recipients of the 2023 faculty awards were Anthony Löwstedt and Andrea Gaal (Diversity in Teaching) and Bradley E. Wiggins (Excellence in Teaching). Teachers of the Year awards went to Marco Bocchese (faculty) and Seth Weiner (adjunct faculty).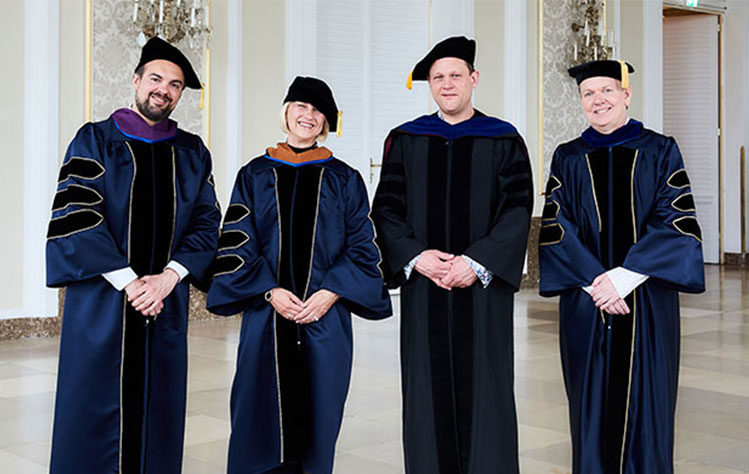 The 2023 Webster Vienna faculty awardees. From left to right: Marco Bocchese, Andrea Gaal, Bradley Wiggins, and Anthony Löwstedt.
WVPU Rector Johannes Pollak officially conferred the degrees of the graduating students, followed by uplifting valedictorian addresses. Fatlinda Demiri-Idrizi, Faris Kamal, and Camila Maria Zamora Gonzalez were recognized as this year's valedictorians.
In her address, Demiri-Idrizi shared words of inspiration with attendees.
"I want to congratulate all of us on this accomplishment and remind everyone that this is just the beginning of our journey. Think about how far we have come, individually and as a class. We have come from different backgrounds and cultures, and yet we have found a common bond in our pursuit of knowledge and growth. We have faced challenges, but we have also experienced triumphs. We have laughed together, learned together, and grown together. And through it all, we have become a family."
The celebration continued with a champagne reception in the Hofburg Palace prepared for graduates and more than 500 guests.
Congratulations to the WVPU Class of 2023!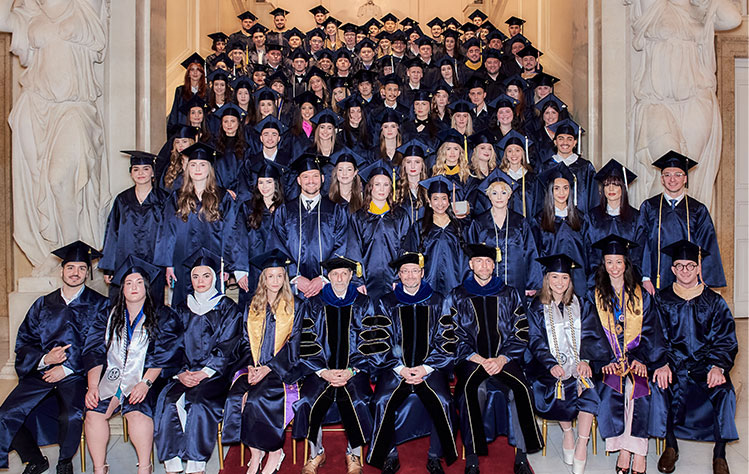 WVPU is a premier research university, whose challenging yet collegial classroom environments provide students with research experience and academic skills necessary to succeed in their chosen career path. Webster Vienna is thrilled to send off these nearly 100 new graduates onto the next steps in their academic or professional careers, as well as chosen life paths.