Webster University Game Design Team Lands First Title on App Store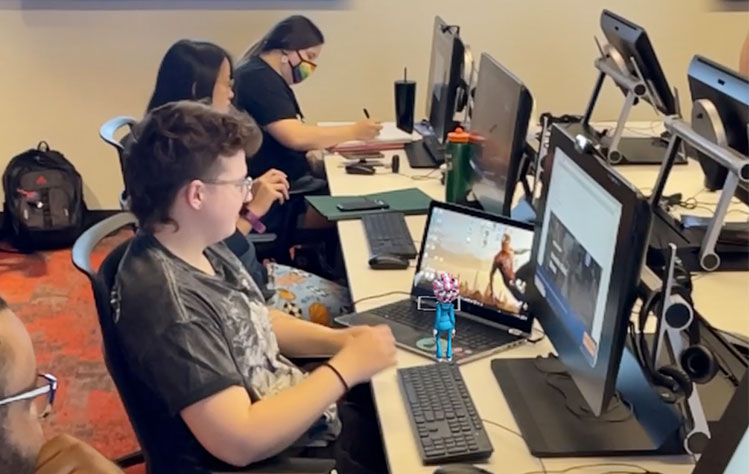 The Webster University Game Design team, under the direction of Professor Matthew Burton, has landed their first game title, "Zombies Ate My Homework," on the official App Store.
The game, which tasks the player with defending a classroom from hordes of zombies using only a slingshot and drawer full of lost-and-found items, was originally created in just 48 hours by the following team:
Justin Bryant - Music
Mitchell Cooper - SFX
Lydia Dames - Item Artist
Dean Foreman - Narrative Designer
Austan Harris - Coder
Thomas Kinney - UI Designer/Artist
Emmett Mitchell - Rooms Artist
Nathan Olvey - Coder
Paeton Pavia - Item Artist
Rhiann White - Character Designer/Animator
Matthew Burton – Instructor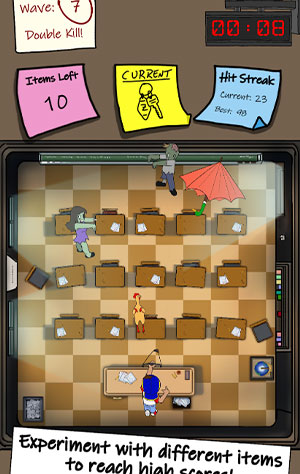 The Webster teammates were participating in the 2021 Global Game Jam, an event hosted annually by a nonprofit organization with the aim of "empowering all individuals worldwide to learn, experiment, and create together through the medium of games in a safe and welcoming environment."
As the name implies, Global Game Jams take place around the world, feature tens of thousands of participants, and always revolve around a theme.
"The theme for the 2021 Global Game Jam was 'Lost and Found'," Burton said, "so we decided to make a game where the player slingshots lost-and-found items at zombies. Each slingshot-able item varies in weight, speed, damage, and unique effects which add some fun variety to the game."
Originally released for PC and MAC platforms and designed to play on a desktop's landscape orientation, Burton and team later felt the game would be a good candidate for mobile play on both iOS and Android devices.
"During the two years following the 2021 Global Game Jam, some members of the team continued to work on the game when we found the time," Burton said. "In addition to the layout redesign, we added several new features, including achievements, unlockables, upgrades, high-score saving and much more."
Burton was quick to give credit for the game's success to the full team, stating that the Game Design program is "very proud."
He also called out one team member in particular, Emmett Mitchell, who has already turned his Webster Game Design experience into career experience.
"Emmett's impressive work on his Game Design and Animation projects helped him land a position as a 3D artist for Mob Entertainment," Burton said. "They are the developer of one of the biggest games of all time, "Poppy Playtime."
"Zombies Ate My Homework" is available on Google Play, iOS, and the Web.
Webster's Games and Game Design BA is offered through the School of Communications Department of Media Arts.