Matt Vogel, Muppet Performer Behind Iconic Characters Kermit the Frog and Big Bird, Named Webster University's 2023 Commencement Speaker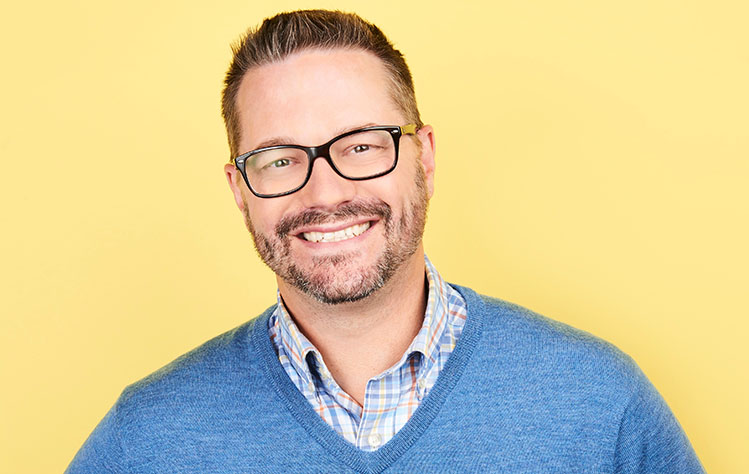 Webster University alumnus Matt Vogel, who is the performer behind Kermit the Frog, Big Bird, and more than a dozen other Muppets on "Sesame Street" and numerous films and television programs, will deliver the main speech for Webster University's 2023 Commencement, scheduled for May 13 on Webster's main campus in St. Louis.
Vogel's career is expansive. Besides his job as Muppet Performer of multiple characters for Sesame Workshop and the Disney-owned The Muppets Studio, Vogel produces a popular podcast that explores the stories of Muppet Performers and others in the Muppet universe. Vogel has earned multiple Emmy awards for his work on "Sesame Street." He graduated from Webster with a Bachelor of Fine Arts from the Sargent Conservatory of Fine Arts in 1993.
"Matt's career has focused on entertaining us and educating us about the world and ourselves through his accomplishments as an actor and producer as well as the multiple characters of 'Sesame Street,'" said Webster University Chancellor Elizabeth (Beth) J. Stroble. "His legacy resides in the hearts of many as he combines puppetry and comedy to educate children and adults alike, reaching countless individuals across economic levels and geographic locations. I look forward to hearing Matt's wit and wisdom at this year's ceremony."
"Matt really embodies the creative spirit of the typical Webster student. Instead of following the well-worn path of trying to be an Oscar or Tony award winner, Matt became the performer of the most famous frog in the world," said Webster University President Julian Z. Schuster. "He is a role model for all of our students about how to find new ways to apply your skills and talents in an ever-changing world, and how to use those skills to give back to the community."
Vogel was hired by Sesame Workshop in 1996 as the understudy to original Muppet Performer Caroll Spinney's Big Bird, where he quickly learned the ins and outs of the Muppets. By 2003, his skills as a puppeteer landed him a role in the Broadway production of "Little Shop of Horrors" as part of the team of puppeteers of Audrey II, the man-eating plant. His responsibilities for Sesame Workshop continued to grow as well, and in 2009, he won his first Emmy as part of the directing team on "Sesame Street." Since then, he has earned eight more Emmys as director, plus one as co-producer of "Sesame Street" at this year's Emmy ceremony.
In 2012, Vogel was named the puppet captain for "Sesame Street," and shortly after that, he became only the second person to perform Count von Count, after original Muppet Performer Jerry Nelson. In 2017, The Muppets Studio asked him to take over the role of Kermit the Frog. The following year, he took on the role of Big Bird full-time for Sesame Workshop.
Today for The Muppets Studio he plays Kermit the Frog, The Electric Mayhem's bass player Sgt. Floyd Pepper, Uncle Deadly, Lew Zealand, Crazy Harry, Sweetums, Pops, Camilla, Dr. Julius Strangepork, '80s Robot, Ma Bear, and Constantine "The World's Most Dangerous Frog." For Sesame Workshop, he plays Big Bird, Count Von Count, Mr. Johnson, one of the Yip-Yips, Biff, Forgetful Jones, Herb the Dinosaur, Hansel, and Sherlock Hemlock.
Films that feature his work include "The Adventures of Elmo in Grouchland," "The Muppets," "I Am Big Bird" (as himself), and "Muppets Most Wanted."
His work has been featured in dozens of television shows, including "Saturday Night Live," "30 Rock," HBO's "Oz," "Muppets Haunted Mansion" (Disney+), "Lip Sync Battle," and "The Masked Singer." In addition, his work as a Muppet Performer has been seen on "Last Week Tonight with John Oliver," "Late Night with Seth Meyers," "The Tonight Show Starring Jimmy Fallon," and "Jimmy Kimmel Live!" He can be seen as Sgt. Floyd Pepper in the Disney+ series "The Muppets Mayhem," coming later this year.
In addition, he produces and hosts the podcast "Below the Frame with Matt Vogel," where he interviews Muppet Performers, writers, wranglers, and others from "Sesame Street" and The Muppets Studio.
Vogel, who is married to Sargent Conservatory of Fine Arts alumnus Kelly Vogel ('93), and has five children, will receive an honorary doctorate during Commencement for his contribution to his field and the positive impact it has had on the community.
"I am excited and grateful to receive this honor, and I look forward to meeting all of the new graduates," Vogel said. "Webster University provided me with a strong foundation and love of learning and encouraged me to explore my passions. I hope that my address will inspire others to forge their own individual path in this world."
Webster's Commencement will start at 9 a.m. May 13 and will be streamed live at www.webster.edu/live. To learn more about Webster University's Commencement ceremony, visit www.webster.edu/commencement.
With its main campus in St. Louis, Missouri, USA, Webster University (www.webster.edu) comprises an action-oriented global network of faculty, staff, students and alumni who forge powerful bonds with each other and with their communities around the globe. Founded in 1915, Webster is an independent nonprofit university with students studying at campus locations in North America, Europe, Asia and Africa and in a robust learning environment online. The University is committed to ensuring high-quality learning experiences that transform students for global citizenship and individual excellence.